Former Virginia Lt. Gov. Don Beyer won a seven-way Democratic congressional primary Tuesday night, virtually assuring he will replace longtime Democratic Rep. Jim Moran in the liberal 8th Congressional District.
"There were some very good candidates," Mr. Beyer said in a telephone interview Tuesday night. "I thought that the clear message from the beginning about the proven leadership was effective. I'm pleased, and now we'll set our sights on trying to duplicate this in November."
With all 163 precincts reporting, Mr. Beyer had 46 percent of the vote, far more than his closet challenger, State Del. Patrick Hope, who had 18 percent. State Sen. Adam Ebbin was third, with 14 percent.
---
SEE ALSO: House Maj. Leader Cantor loses to tea party challenger in Va. GOP primary
---
Mr. Beyer, 63, is well known in the district for his family-named car dealership. He served as President Obama's ambassador to Switzerland and Liechtenstein and received key endorsements from several former Obama administration officials. Mr. Beyer was the only candidate in the race to raise more than $1 million.
Mr. Moran is retiring after holding the seat for 24 years. In a statement, the congressman called Beyer "the leader Northern Virginia needs in Congress."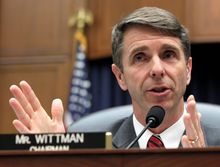 Mr. Beyer ran as an experienced candidate who would work across party lines to get things done for the district. He called climate change "the single most important issue of our time" and urged passage of a carbon tax.
Alice Harman, 27, a physician who lives in the Rosslyn neighborhood of Arlington and voted for Mr. Beyer, said that his experience was the tiebreaker in the race for her. "He has the most experience," she said. "He was a good lieutenant governor."
Mr. Beyer is expected to easily prevail in the general election against Republican Micah Edmond; Mr. Obama carried the district 68 percent to Mitt Romney's 31 percent in 2012. The district borders the nation's capital and includes Alexandria, Falls Church, Arlington County and parts of Fairfax County.
But Mr. Beyer wasn't banking on an easy general election.
"The voter demographics are certainly favorable. But I also very much respect the fact that we have to run a real race," he said — an understandable stance on a night when House Majority Leader Eric Cantor shockingly lost to tea party-backed candidate Dave Brat.
Despite Mr. Cantor's loss, other Virginia Republican voters stuck with incumbents faced with underfunded first-time challengers from the right.
U.S. Rep. Robert J. Wittman defeated challenger Anthony Riedel in the 1st District Republican primary on Tuesday, winning 76 percent of the vote with all but two of the district's 223 precincts reporting.
Mr. Wittman is a former field director for the Virginia Department of Health's Division of Shellfish Sanitation and member of the state House of Delegates. His campaign had more than $1 million on hand, according to the most recent campaign finance reports.
Mr. Riedel is the spokesman for the National Right to Work Legal Defense Foundation and has never held public office. Mr. Riedel raised about $23,000. During the campaign, he criticized Mr. Wittman for not being conservative enough.
Mr. Wittman will face Democrat Norm Mosher, who previously served on Irvington's town council, in the general election. Libertarian Xavian Draper also signaled his intent to run. But the district is overwhelmingly Republican, and Mr. Wittman has won general elections by comfortable margins since he was first elected to Congress in 2007.