Obamacare has taken center stage in the nationwide battle to win control of the Senate. But when it comes to a key pillar of the law — expanding Medicaid — the trail of political drama still leads to state capitals, not Washington.
In New Hampshire, Republican state lawmakers who supported a version of Medicaid expansion face primaries from fierce Obamacare opponents. And Virginia Democrats' efforts to expand Medicaid were stymied this week when one of their senators resigned, shifting control of the chamber to a GOP in lockstep opposition to expansion.
"It's undoubtedly a big issue on the state level," said Greg Moore, New Hampshire state director for Americans for Prosperity, a conservative group that opposes Medicaid expansion.
---
SEE ALSO: 18 states want to delay key part of Obamacare's small-business marketplace
---
The Supreme Court in 2012 upheld Obamacare as constitutional, but the justices said states should not lose existing federal Medicaid dollars if they did not want to expand the program to those making up to 138 percent of the federal poverty level, as the health care law dictates.
That made the expansion decision optional, and it became the catalyst for partisan wars in state capitals across the country.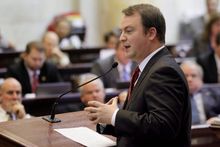 G. Terry Madonna, a professor and politics expert at Franklin & Marshall College in Lancaster, Pennsylvania, said that in his recent polling of voters in his state, he was "stunned" to find that 25 percent — a high mark in his book — of voters thought Medicaid expansion was an important issue.
---
SEE ALSO: Colorado unveils Obamacare tax to boost struggling state exchange
---
Six in 10 favored traditional Medicaid expansion, and seven in 10 supported Republican Gov. Tom Corbett's Healthy Pennsylvania plan — a private-option plan that leverages federal dollars, yet may impose restrictions on beneficiaries that may not pass federal muster.
"My sense is if they get it either way, they'd be content," Mr. Madonna said of voters.
In New Hampshire, state Sens. Dave Boutin and Nancy Stiles, both Republicans, face primaries because they supported private-option expansion in their state. The state's program is underway and hopes to start enrolling people by July.
In Arkansas, GOP primary challenger Scott Flippo is attacking his opponent, Republican state Rep. John Burris, as a cheerleader for Obamacare for his role in working out a compromise which leveraged federal money under Obamacare to purchase private insurance for low-income residents.
The charge comes despite Mr. Burris having "once blocked a state agency's entire budget in an attempt to prevent it from being able to set up the online insurance exchange the health care law required," according to The Associated Press.
Virginia may be the most intense fight right now.
Gov. Terry McAuliffe, a Democrat, promised to expand Medicaid if elected in late 2013. The plan was tied to the state's two-year budget, resulting in a standoff between Democrats who control the state Senate, and Republicans who control the House of Delegates.
But this week state Sen. Phillip P. Puckett, a Democrat, resigned, turning the chamber over to a GOP majority, delivering a big blow to Mr. McAuliffe's plans.