A federal judge has rejected a bid by former lobbyist Kevin Ring to unseal records in his Jack Abramoff scandal case that he says will help expose how prosecutors negotiate plea deals.
Ring is serving a 20-month prison sentence for his role in the Abramoff case. Among nearly two dozen defendants, he was the only defendant to fight the charges in court, while others negotiated plea deals and cooperated with prosecutors.
He was found guilty of bribery for giving sports tickets and other gifts to public officials.
Soon before he had to report to prison earlier this year, Ring asked a federal judge in Washington to unseal portions of a PowerPoint presentation used by prosecutors in a proffer session before Ring's indictment.
The contents of that presentation aren't disclosed in the court filing, but it suggests the records likely underscore the disparate sentences awaiting defendants who go to trial compared to those who accept plea deals.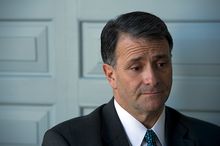 "Release of this information would provide a considerable benefit, by bringing greater transparency to, and public scrutiny of, the daily workings of the criminal charging, plea and sentencing processes," Ring's attorney, Andrew Wise, wrote in the motion.
But prosecutors fought to keep the records under seal. This week, U.S. District Court Judge Ellen Segal Huvelle agreed, ruling that the presentation wasn't actually a court record, and so it should remain off limits.
"Here, the presentation was part and parcel of plea negotiations and was not part of the adjudicatory process," she wrote in a six-page ruling on Tuesday.