Prius. Tesla. Harley?!
Iconic U.S. motorcycle maker Harley-Davidson is revving up its entry in the electric vehicle craze, offering a sneak peek next week of the company's first all-electric motorcycle.
The Milwaukee-based company, whose New York Stock Exchange handle is "HOG," says that the new LiveWire prototype can go from 0 to 60 mph in four seconds, and the electric motor eliminates the need to change gears, making acceleration and handling easier.
---
PHOTOS: World Cup's sexiest WAGs
---
How the new cycle will play with Harley fans used to the original's throaty, fossil-fuel-powered rumble is another question.
"The new LiveWire project motorcycle might not be cool with today's Harley enthusiasts, and I'm sure you won't see them rolling in a pack of riders in [motorcycle clubs]," said "Jackpot," the nom de cycle of the national president of the venerable 13 Rebels Motorcycle Club. But, he added, "they will have their niche and will be cool one day, especially if gas becomes a rare commodity."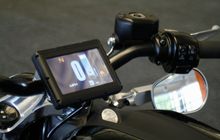 Harley plans to show off demonstration models Monday at an invitation-only event in New York, followed by a 30-city tour, allowing several dozen riders to test-drive the new electric motorcycles, after which the model will go back for more fine-tuning.
Millions of two-wheeled electric vehicles are sold every year, but those are mostly scooters and low-powered bikes that appeal more to Chinese commuters than to American easy riders on the open road. With not much of a market for full-size electric motorcycles currently, Harley is more focused on the potential long-term results.
"We think that the trends in both EV technology and customer openness to EV products, both automotive and motorcycles, is only going to increase," Harley-Davidson President Matt Levatich told The Associated Press. "And when you think about sustainability and environmental trends, we just see that being an increasing part of the lifestyle and the requirements of riders."
Harley-Davidson's website teased enthusiasts with a cryptic 15-second video showing the new bike speeding down Route 66, emitting the futuristic whirring of the electric motor. The loss of the iconic Harley sound might be a change that some traditional bikers won't stand for, but it could potentially attract a younger crowd.
Jackpot said he thinks the new bike will appeal to members of the younger, eco-friendly generation who may want an American-made motorcycle to drive in urban areas like Washington and New York.
Some see Harley's move as a natural evolution to appeal to a shifting market.
"Electric motorcycles are creating interest among current and prospective riders," said Tim Buche, CEO of the Motorcycle Industry Council. "Innovation brings choice and broadens the appeal of riding" to a larger variety of people.
Even other manufacturers of electric motorcycles say Harley's participation will boost the electric vehicle movement, increase demand and sales of all electric motorcycles just by raising public awareness of the non-gas alternative.
Zero Motorcycles, the top-selling company specializing in full-size, high-powered electric motorcycles, expects to sell 2,400 motorcycles this year. That's a fraction of the more than 260,000 conventional motorcycles Harley-Davidson sold in 2013.
The biggest obstacle for all electric vehicles is the lack of charging stations and the time it takes to charge the batteries. Batteries on electric motorcycles typically only last 130 miles before they need to be recharged, a process that can take up to an hour.