Left with little to do last season aside from receiving treatment on his injured left foot and learning his responsibilities within the Washington Redskins' defense, Phillip Thomas took to considering his rookie year as more of a redshirt year.
If anything, Thomas didn't want all of that responsibility to fall on him when he was finally healthy.
"It just gave me time to learn the playbook, see what other people are doing right and trying to mimic them, seeing what they're doing wrong and making sure I keep it out of my game," Thomas said. "That's what everybody tells me. It's a feel-good thing to just say it was a redshirt year, because of course I don't want to be out, but it gave me time to mature and learn the defense."
---
SEE ALSO: Brad Edwards, former Redskins safety, named AD at George Mason
---
A fourth-round pick last April out of Fresno State, Thomas was penciled in as the Redskins' starting strong safety when training camp opened, especially with Brandon Meriweather still recovering after tearing the ACL in his right knee the previous season.
At 6-foot-2 and 210 pounds, Thomas led the NCAA's Football Bowl Subdivision with eight interceptions in 2012, his senior year, and was one of three players the Redskins drafted in an attempt to inject a ball-hawking mentality into their defensive backfield.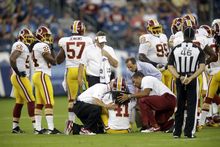 Whatever potential Thomas showed during two weeks of training camp was never realized. In the Redskins' first preseason game on Aug. 8, Thomas missed a tackle while twisting his left foot into the turf, causing a Lisfranc sprain — a tear of any number of ligaments that connect the metatarsals to the base of the foot.
It took nearly a week for Thomas to receive the diagnosis. When he did, he was given a 4-to-6-month window for rehabilitation and recovery.
"It scared me," Thomas said. "They said this Lisfranc injury could be a real serious one. Fortunately, through God's hands, He healed me and brought me back. I feel great. I feel like I was before, and now it's just time to keep progressing."
Thomas, originally from Bakersfield, California, remained in Ashburn all offseason to continue receiving treatment on his left foot. By early March, he was cleared to begin cutting at full speed — one of the last major hurdles in his recovery.
He was fully cleared to participate during the start of the Redskins' offseason workouts in early April, and the beginning of organized team activities last week gave him the mental confidence he needed to know he had recovered.
At one point during team drills on Thursday, Thomas dived and snagged an off-target pass from Colt McCoy for an interception, drawing applause from his teammates in the secondary and praise from Raheem Morris, the Redskins' defensive backs coach.
"He's just getting back in the flow," coach Jay Gruden said afterward. "Raheem's working with him and he's doing a good job. Between he and Meriweather, we expect good things from that safety spot."
The Redskins' hodgepodge secondary has been one of their biggest issues for the past several seasons, and the hope is that Thomas can help solidify that position, not just this year but for at least the next two.
After missing out on signing any of the marquee free-agent safeties this March, and knowing there wasn't an appealing candidate in the draft last month, the Redskins instead brought back Meriweather and Ryan Clark, who spent the last eight seasons with the Pittsburgh Steelers after two in Washington.
They also have Bacarri Rambo, who struggled to read offenses and make tackles during an up-and-down rookie year, and Tanard Jackson, reinstated last month after missing two seasons because of a league suspension for a failed drug test.