Secretary of State John F. Kerry extended his sweep through Iraq Tuesday, stopping in the northern Iraqi city of Irbil, where a top Kurdish leader warned that a recent advance of Sunni extremists has created "a new reality and a new Iraq."
The comments by Kurdish Regional President Massoud Barzani, who met with Mr. Kerry a day after the secretary of state visited leaders in Baghdad, prompted new speculation that Iraqi Kurds may be poised to push for independence from the nation's divided Sunni and Shiite populations.
While recent weeks have seen Kurdish militias seize control of key areas of northern Iraq in response to the surge by Sunni extremists, Mr. Barzani did not specify exactly what he meant in referring to a "new Iraq," according to The Associated Press, which reported on the Kurdish leader's remarks.
Mr. Barzani, whose minority bloc has long functioned as kingmaker in Iraqi politics, did not directly mention Prime Minister Nouri al-Maliki, who is facing the strongest challenge to his rule since he assumed power in 2006.
But Mr. al-Maliki has made little effort beyond rhetoric to win the trust of his critics, who are led by disaffected Sunnis, Kurds and even several former Shiite allies.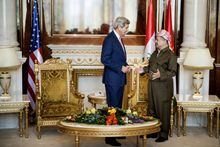 Without the cooperation of the Kurdish militias, who now control the oil rich city of Kirkuk, Washington's push for a new cross-sectarian government in Baghdad is likely to face significant hurdles during the days and weeks ahead.
The United States, along with Turkey, which borders Iraq to the north and also has a large Kurdish population, have long opposed the idea of an independent Kurdistan in the region and Mr. Kerry appeared to push that message on Mr. Barzani Tuesday.
"A united Iraq is a stronger Iraq, and our policy is to respect the territorial integrity of Iraq as a whole," Mr. Kerry said during an interview with NBC after meeting with the Kurdish leader, according to a transcript of the interview posted on the State Department's website.
Mr. Kerry said he is confident that, despite what Mr. Barzani may have said publicly, the Kurdish leadership will work with the other factions in Baghdad to hold Iraq together.
"At this moment, [Mr. Barzani] is going to participate in the government formation process," Mr. Kerry said. "He is committed to trying to help yet again to find a means of having a unity government."
The meeting between Mr. Kerry and Mr. Barzani in Irbil came a day after Mr. Kerry made a surprise visit to Baghdad to push a message of inclusion on leaders of Iraq's Shiite, Sunni and Kurdish political factions to confront what he called an "existential threat" to the country.
Mr. Kerry called on the bitterly divided factions to honor commitments to seat a new Iraqi parliament next week before a burgeoning Sunni insurgency — which has become aligned with al Qaeda-inspired Islamic State of Iraq and the Levant (ISIL) during recent weeks — crushes any hope for a lasting peace in Iraq.
"This is a critical moment for Iraq's future," Mr. Kerry said at a press conference on Monday evening in Baghdad. "It is a moment of decision for Iraq's leaders, and it's a moment of great urgency."
Mr. al-Maliki has been focused on the security situation, spending hours each day in the main military command center, rather than politics, officials close to his inner circle say, speaking on condition of anonymity because they weren't authorized to release such details.
Despite the attention, Iraq's mainly Shiite security forces have failed to wage any successful counteroffensives against the insurgents.