Sen. Thad Cochran turned back a hard challenge from tea-party-backed state Sen. Chris McDaniel in the Mississippi Senate runoff race Tuesday, handing the party establishment arguably its biggest win of the 2014 primary season and boosting Republican hopes of flipping control of the Senate in the November election.
Mr. Cochran's win was viewed as a huge blow to the national tea party groups and their allies, who invested heavily in the race in hopes of scoring their first big win of the primary season over a Senate Republican incumbent.
The Associated Press called the race for Mr. Cochran more than three hours after the polls closed. With 99 percent of precincts reporting, Mr. Cochran held a 50.8 percent to 49.2 percent edge over Mr. McDaniel.
"It's a group effort, it's not a solo and so we all have a right to be proud of our state tonight," Mr. Cochran told supporters in a brief appearance late Tuesday night.
Mr. McDaniel, meanwhile, refused to concede. He blamed the loss on "liberal Democrats" and slammed Mr. Cochran and his allies for "once again compromising," "reaching across the aisle" and "abandoning the conservative movement."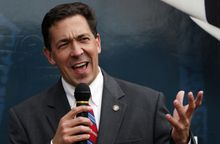 "This is not the party of Reagan," Mr. McDaniel said, adding that he will not surrender. "Now it's our job to make sure that the sanctity of the vote is upheld. Before this race ends, we have to make absolutely certain that the Republican primary was won by Republican voters."
Some of those same tea party groups that backed Mr. McDaniel in Mississippi also were left licking their wounds after coming out on the losing end of a special election to replace retiring Sen. Tom Coburn of Oklahoma.
Rep. James Lankford, a member of House Republican leadership, easily outpaced six other candidates, including former State Speaker T.W. Shannon, who had the support of such tea party favorites as Sens. Ted Cruz of Texas and Mike Lee of Utah and former Alaska Gov. Sarah Palin.
"The conservative tea party folks wanted a scalp on their mantle," said Ford O'Connell, a GOP strategist. "And in terms of marquee races, the Mississippi and Oklahoma U.S. Senate races were their last best opportunities this cycle. The narrative going forward will be 'the establishment strikes back,' but the duel between the Hatfields and McCoys of the Republican Party is far from settled."
The Mississippi and Oklahoma contests were two of the most watched races on a busy election night in which Rep. Charles Rangel, a 22-term congressman, was also fighting for his political life and appeared poised to fend off a chance from state Sen. Adriano Espaillat in New York's 13th Congressional District.
With 99.6 percent of the precincts reporting, Mr. Rangel held a 47.5 percent percent to 43.6 percent lead over Mr. Espaillat.
Mr. Rangel claimed victory late Tuesday night, but according to New York TV stations, Mr. Espaillat left his campaign headquarters insisting the race remained too close to call.
Voters also headed to the polls in Colorado, Utah and Maryland, where Democrats picked Lt. Gov. Anthony G. Brown as their man to succeed outgoing Gov. Martin O'Malley, a Democrat who is thought to be flirting with a presidential run.
Tuesday's victory makes Mr. Brown the overwhelming favorite in the heavily Democratic state's November general election. All eight of the state's incumbent House members also easily won nominations over little-known challengers.
Republican Curt Clawson, meanwhile, won the special election in Florida's 19th Congressional District and will fill out the term of Rep. Trey Radel, the freshman lawmaker who resigned from Congress in January after getting caught trying to purchase cocaine in a sting operation.