Perseverance is of the utmost importance for those who wish to make it in the NFL. Thousands of players every year wait all seven rounds for their names to be called, and end up disappointed.
For some. that is the end of the dream to play football professionally. A lucky few, however, get an opportunity to prove that they belong as undrafted free agents. One such player is Redskins running back Silas Redd.
"It was awesome [to get a chance with the team]," Redd said recently. "God blessed me with the opportunity — you know, I didn't get drafted, but I got here by the way I did and I'm thankful for that and trying to take advantage of the reps I'm getting."
Redd has never had an easy path in his football career. From 2010-2011 he played for Penn State, becoming the Nittany Lions' starting running back in 2011 and rushing for 1,188 yards, third-best in the Big Ten In the wake of the NCAA sanctions levied on Penn State, Redd announced he would be transferring to the University of Southern California for his junior season.
Redd's career at USC was modest to say the least, as he only managed to rush for 1,281 yards over two seasons. After an inauspicious senior year in 2013 in which he rushed for only 376 yards and one touchdown Redd did not get to hear his name called at the 2014 NFL draft.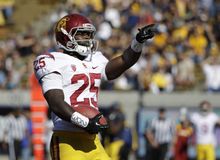 That could have been the end for Redd, but then came the phone call from Redskins running backs coach Randy Jordan to come and join the team for minicamp.
Through the team's initial spring training sessions it was evident that Redd is taking nothing for granted.
"Everyone brings something to the table," said Redd. "We all feed off of each other without any animosity so it's all I could ask for."
The running back position is one of the most crowded on the roster heading into training camp this summer. Alfred Morris has the top spot locked up after dominant performances in his first two seasons, with talent like Roy Helu Jr. and Evan Royster behind him. Add to that group flashy rookie Lache Seastrunk and it is easy to understand the difficulty of the task Redd has ahead of him.
"I played with Evan my first year at Penn State," said Redd. "He was a senior then and I'm continuing to learn under him now. And of course Alfred is just setting the standard for all of us. The way that guy works, man, he's always running off the field, always finishing stuff like that."
Redd is approaching his opportunity both as a chance to make a professional roster and a chance to continue to learn and grow. And even if his opportunity in Washington does not work out, he will try to get a shot with another team in the league.
"It's been great," said Redd. "Coach Jordan, man, ever since he called me to come sign on with everybody, it's been great."