The owner of Oklahoma's Fast Machine Gun Shoot has some explaining to do. A 105mm artillery round from a World War II era howitzer crashed though a man's home — three miles from the gun range.
"It's unbelievable," homeowner Gene Kelley told a local CBS affiliate June 24. "Unless you were here to see it or see the pictures I've got, you would not believe how huge this thing is."
The gun range owner told the local station that safety precautions were taken.
---
---
"It was not on a level plane but on a downward trend, pointed downhill in the bottom of a valley," said Mike Friend. "For that thing to rise and go far northwest of the range, it's just unheard of. It's a freak accident, because as far as the safety end of everything, we drill every one of our shooters before it ever begins. We have 30-to-45-minute drills."
The owner of the weapon agreed to pay for damages to Mr. Kelley's Wyandotte, Oklahoma, home, the station reported. The round was fired as part of the Full Auto Shoot and Trade Show, although it had never been fired at the Fast Machine Gun Shoot.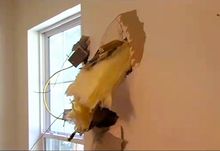 "Fortunately, nobody was hurt," Mr. Kelley told the station.