NEW YORK — The celebrations stretched from north of the border to South Florida.
Andrew Wiggins was the No. 1 pick by Cleveland, the second straight year a Canadian led off the NBA draft. Later Thursday, the Miami Heat acquired the rights to Shabazz Napier, who comes to the league with LeBron James' endorsement.
In one of the deepest drafts in years, plenty of teams got what they wanted.
"I mean, we're all good," said Jabari Parker, who went second to Milwaukee. "We're all great players."
And some of the rookies are even recruiters.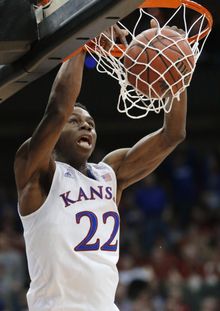 Wiggins was asked what he would say to James about playing in Cleveland. Napier, from national champion Connecticut, was aware that James had posted on Twitter that he is a fan of the Huskies' guard, so perhaps that could be the key to keeping him in Miami.
"I would hope so," Napier said. "He's one of the best players in the world. So if me going there helps him come back, it just betters our chances of being a complete team."
Cleveland's progress depends on Wiggins, the Kansas freshman they hope turns out better than fellow Canadian Anthony Bennett.
Thrilled to go first and even happier when Jayhawks teammate Joel Embiid went two picks later, Wiggins beamed in his black tuxedo jacket with a white floral pattern.
"A thousand thoughts are going through my head right now," Wiggins said. "It's a dream come true."
Bennett was injured last summer, came into the season out of shape and made no impact, one of the reasons the Cavs were back in this spot again.
But Wiggins seems a much more ready product after averaging a Kansas freshman-record 17.1 points. He might have ended up as the top pick anyway, but became the best option for the Cavs when Embiid had a stress fracture in his right foot shortly before the draft.
After making Canada the only country besides the U.S. to have consecutive No. 1 picks, Wiggins slipped on a maroon Cleveland hat, hugged his supporters and went on stage to shake hands with Commissioner Adam Silver, who was calling the first round for the first time since replacing David Stern.
Milwaukee followed with Parker, whom some consider the more NBA-ready player after an All-American freshman season for Duke. Playing in Milwaukee puts him near his family in Chicago.
"I'm just very optimistic," Parker said. "If it was 1, 2, put me at 60, just getting that opportunity, getting that chance of being in the NBA."