ANALYSIS/OPINION:
This is going to be the summer of Zim.
As in Ryan. As in Zimmerman, with one "N."
The Washington Nationals — a talent loaded with talent but searching for an identity — may have found one in the revival of the "face of the franchise."
Ryan Zimmerman, have glove, will travel.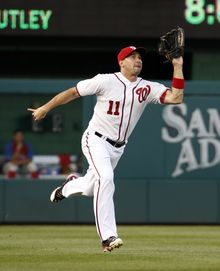 Left field, sure. First base, fine. Third base — we'll see.
Zimmerman's willingness to pick up a glove and play wherever the Nationals need him is his defining moment as a leader on this team — and perhaps the rallying cry for Washington this summer.
He's the $100 million man. He's a former Gold Glove third baseman who played 1,119 games at that position, many of them as good as there is in the game. He was here before any of this talent-laden roster arrived. Yet, at the age of 29, in his 10th major league season, Zimmerman has volunteered to be perhaps the highest-profile utility man in baseball — if that's what it takes for this team a level of success to match the expectations.
It's what the Nationals need for success. That was clear from the moment Zimmerman returned to the lineup three weeks ago after spending nearly two months on the disabled list for a fractured right thumb. He made his debut in left field against the Phillies and went 2 for 4 at the plate with an RBI. He also made a great catch at his new position.
It was almost a relief for him not to have to return to third base that night. Despite his still-stellar fielding, his throwing problems — accentuated by several years of shoulder problems — became a source of embarrassment and frustration, and may have affected him offensively. Who knows?
"The last couple of years at third have been tough for me — mentally, physically," he told reporters after his first game in left field. "I really had to grind it out. So it's been tough. But to learn something new, to go out there and have fun and play ball, it's refreshing, I guess. Most importantly, it gives us the best chance to win. That's the point."
It does give them the best chance to win. The Nationals have taken off since Zimmerman's return to the lineup. He was slumping recently, going 8 for 53. But he sparked their 16-inning victory in Milwaukee Tuesday night with the game-winning home run and then another sparkling game-saving catch. He told reporters after the game, "I had a rough two weeks or so, but I kept grinding it out."
In case you hadn't noticed, Ryan Zimmerman is a grinder.
He's also a winner, which, as he said, is the point. It may be an obvious point, but many times it is one that is lost in major league clubhouses by star players with big egos to go along with their big numbers.
Zimmerman's healthy — and proper — perspective was born in the years of losing. In Zimmerman's first five years in Washington, those Nationals teams had a record of 331-478. He looked around the clubhouse and saw a room full of losers.