The golf world is abuzz with the return of Tiger Woods, and despite some struggles with his short game, he reported no physical issues Thursday after his first competitive round since early March.
"The back's great. I had no issues at all," Woods said after shooting a 3-over 74 to open the Quicken Loans National. "No twinges, no nothing. It felt fantastic. That's one of the reasons why I let go on those tee shots. I hit it pretty hard out there."
On a beautiful day at Congressional Country Club in Bethesda, Maryland, Woods teed off in the morning, gathering the kind of crowd that only he can draw. It didn't seem to matter how Woods hit; whenever he swung his club it was to a round of applause.
---
SEE ALSO: Seeking first PGA Tour win, Greg Chalmers leads early at Congressional
---
Woods' long game looked good all day, his approaches were clean for the most part and he hit nine of 14 fairways. Where he really seemed to be puzzled was his short game.
"Yeah, definitely, because that's all I've been doing is chipping and putting," he said. "I hit some bad shots. Those are bad pitches and those are the ones I should get up-and-down every time."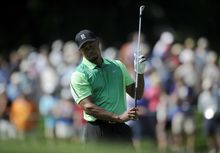 Woods was forced to putt 17 times through his first nine holes and bogeyed his first two holes of the day. By the time he had made the turn, Woods was four shots over and had only managed one birdie, while playing partners Jason Day and Jordan Spieth struggled as well.
---
SEE ALSO: Erik Compton hopes British Open pursuit, not heart surgery, is his story
---
"Unfortunately we didn't see a lot of each other on the front nine," joked Woods. "We were all kind of looking to break 80. It was a bit of a fight today for all of us but we all hung in there."
The second nine looked like it was going to be just as tough for Woods when he bogeyed two of three to start, missing putts from 11 and 5 feet.
After his second bogey on the second nine it seemed like Woods, who played the back nine first, was ready for a change. He birdied three of the next five holes and cut his score from 6-over to 3-over.
"The score is not really indicative of how I played," said Woods. "I had four up-and-downs right there on 15 through 18. Had an easy pick on two, don't get that up-and-down. Had a wedge in my hand on three and I jerk it in the bunker. I made so many little mistakes. So I played a lot better than the score indicated, which is good."
Woods' companions on the course could feel the change as he began to settle into his game.
"He finally found his rhythm and we saw what happens when he finds his rhythm out there," said Spieth, who finished the day alongside Woods at 3-over. "Look for a pretty solid round tomorrow out of him. Wouldn't be surprised if he shoots a few under."
Added Day: "Everyone's excited to see what Tiger's got coming back after injury, and obviously, we didn't get off to a great start. … But with that said, we came back strong. We started finding our groove, and it felt much better. Made a few more birdies just to try to save our rounds. I'm excited for tomorrow."
As the day went on it became apparent that Woods was working through the rust that had built up over his three-month absence.
"Just as I played, the more I played, the more I felt comfortable about shot selections, my sight lines, all different things," said Woods. "And playing tournament golf, got the adrenaline going, hit the ball a little further, try to hit my numbers and then the wind crops up a little bit.