The first time Justin Rose was in a playoff in a professional event, in 2007, he spent time crafting a strategy and playing the hole before he realized his opponent, Anders Hansen, birdied the hole and claimed the victory.
He was reminded of that circumstance before stepping up to the 18th tee — again — on Sunday, when he was set to begin a sudden-death playoff against Shawn Stefani. Rose turned to his caddy, Mark Fulcher, and asked for advice. Fulcher's response? Play the hole.
Moments removed from a near-disaster on the same hole, Rose shot an even-par 4, preventing Stefani from winning his first PGA Tour event and taking home the Quicken Loans National title himself.
---
SEE ALSO: Quicken Loans National notes: Tourney dates, course set to change
---
It was the first time the event had progressed to a playoff in its eight-year history, and the drama such an occurrence typically provides was sorely lacking.
Stefani, a 32-year-old whose best performance on the PGA Tour was a fifth-place finish at his hometown Shell Houston Open in April, sent his tee shot on the par-4 18th into the trees on the left, and after a free drop, put his approach into the water.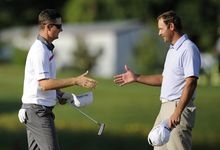 Rose, meanwhile, hit the green in regulation and narrowly missed a 34-foot birdie putt, allowing him to sink a 1-footer for his 14th victory as a professional, sixth on the PGA Tour and first since the U.S. Open last year.
"I think it's great to win on a golf course like this because you can't sort of luck into it, if you'd like," said Rose, who became the second two-time winner of the event after he finished his four rounds with a cumulative 4-under-par 280. "You have to play good golf. I had to rely upon different parts of my game all week … and it's really nice to win in that fashion."
All week, the course tested players who cursed its greens and rued its rough. Only six players broke par on Sunday, the fewest of the four-day event, and the 10 who finished under par for the tournament were the fewest since it began in 2007.
That was fine for Rose, who all week professed a liking for the course's conditions. He nearly eagled three holes during his final round, yet a bogey on the par-4 18th almost cost him. Rose's tee shot went into the gallery on the left of the fairway, and though he appeared to save himself with a low screamer that split two trees, his ball bounded down the left and into the water.
"I was hoping it was going to be the glory shot for a second or two off the face … but as I chased after the ball, I realized it was hooking pretty good and had no chance of staying up," Rose said.
Stefani laid quiet most of the afternoon, entering the day tied for fifth at 3-under. He could have entered the clubhouse with the outright lead on the 18th, but he missed a 22-foot birdie putt by inches and settled for par with a two-footer.
"I put myself in position a few times the last couple years to win a golf tournament, and haven't really played great on the weekend — and maybe even on Sunday," said Stefani, whose only two professional victories were on the developmental Web.com Tour last year. "But today I said, 'You know, you've been here a couple times now. It's time to go out and play your game and see what you can do and see where it ends up.' Fortunately for me, it put me in the playoff."
The day began with Patrick Reed atop the leaderboard at 6-under, but his success soon waned. After a back-and-forth front nine, he remained at that number at the turn, but double-bogeyed each of his next two holes, hitting his tee shot into the water on the par-3 10th and then hitting his second shot on the par-4 11th out of bounds.
"I bounced back on the front nine, and it just seemed like everything that could go wrong on the back nine did," said Reed, who finished tied for 11th at even par. "I did a lot of things great this week, but this definitely burns, and it will definitely get me more fired up for more events coming up."
Charley Hoffman and Ben Martin tied for third at 3-under, with Martin missing an 18-foot birdie putt on the 18th that could have put him in the playoff. Seung-Yul Noh, who joined Reed in the final pairing, shot an 8-over 79 on Sunday, and Jordan Spieth, the 20-year-old who entered ranked No. 6 in FedEx Cup points, salvaged a brutal first round over the next three days to finish even par, tied for 11th.