While assigned to remove dead bodies off the USS Oklahoma and USS Oglala after Pearl Harbor, Chief Petty Officer Hank Kudzik said he couldn't imagine that, in less than six months, he would be taking part in the most decisive naval clash of World War II, the Battle of Midway.
After a bout on the work detail of the USS Saratoga, the 17-year-old asked a chaplain to be moved to a submarine. Mr. Kudzik recalled his answer: "Son, you know what you are asking?"
The ebullient, now-89-year-old Pennsylvania resident was one of a half-dozen veterans recalling their experiences during the Battle of Midway 72 years ago Wednesday, when the U.S. Navy took on the Japanese Imperial Navy in the Pacific theater's defining maritime conflict. They gathered at the U.S. Naval Memorial, where it was declared to be "Battle of Midway Commemoration Day," and top officials from the U.S. Navy, Marine Corps and Coast Guard thanked the sailors and servicemen who fought there.
---
PHOTOS: Top 10 U.S. fighter jets
---
After training, Mr. Kudzik said he found himself aboard the USS Nautilus submarine on June 4, 1942, standing watch for Japanese carriers.
He can still recall what happened with clarity: spotting the smoke coming from the Japanese carrier Soryu, firing three torpedoes, two of which hit the enemy vessel. The sub dodged Japanese depth charges during the conflict.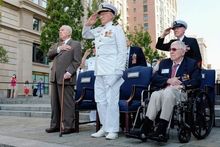 "We managed to get three ships in two days," he said.
---
SEE ALSO: 'Anyone know how to fly?' USAF Capt. lands airliner after pilot's heart attack
---
After the Battle of Midway, the Nautilus fought in Honshu and then made its way back to Pearl Harbor.
"Who was there to meet us? Chester Nimitz, the admiral of the entire Southern Pacific fleet," he said with glee.
"It's very emotional to be here, because it's for us," said Mr. Kudzik. "Six of us sitting there. You know, we're the survivors."
The Naval History and Heritage Command calls the Battle of Midway the "strategic high-water mark of Japan's Pacific Ocean war."
In the months after Pearl Harbor, Japan was planning an attack on the Midway Islands to quickly break the U.S. defenses and establish a Japanese air base.
Japanese commanders did not know that American intelligence had decoded their communications planning the surprise attack. The code, often dubbed JN-25, allowed American forces to assemble naval carriers and plan an ambush.
"Admiral Nimitz made a calculated gamble at Midway. In the language of Texas Hold'em, the U.S. Navy was 'all in,'" said Admiral Mark Ferguson, U.S. Navy vice chief of naval operations.
The battle proved an overwhelming victory after months of reverses. Japan suffered irreparable losses, signifying a turning point in the war in the Pacific Ocean.
Wednesday's ceremony honored the young sailors who mustered the courage to fight in the Battle of Midway while simultaneously encouraging the current sailors to embrace their heritage.