Redskins linebacker Keenan Robinson became the forgotten man.
After his season ended one series into training camp last summer in Richmond, Robinson took no blame during a disastrous year for Washington's defense. He was a spectator, nothing more. But coaches believed Robinson would return to make a difference. So, too, did his teammates. Now is his chance.
With the retirement of linebacker London Fletcher, the Redskins need a player on the inside to take over next to the established Perry Riley, Jr. But torn pectoral muscles cut Robinson's rookie season short and ended last year's before it began.
---
SEE ALSO: Matthew McConaughey pals with RGIII: He's not buying into that Dallas club
---
There is still some caution when discussing what Robinson can bring — the size at 6-foot-3, 238 pounds, and the speed to stay with the NFL's new breed of big, fast, physical tight ends who can run and catch and make life miserable for linebackers in coverage. But that potential all goes to waste if Robinson isn't on the field.
"In college I never got hurt. In high school I never got hurt," Robinson said. "I never had to deal with injuries, especially injuries that kept me out for, shoot, six games my first year; my second year, the whole season. Coming back from it I learned to really appreciate the game."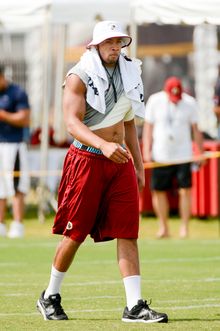 And so Robinson, drafted out of the University of Texas in the fourth round in 2012, worked with the starting unit during Wednesday's organized team activities practice. He knows defensive coordinator Jim Haslett's version of the 3-4 defense and has an advantage over free-agent linebackers like Darryl Sharpton and Akeem Jordan who have starting experience with their previous teams and a track record to work with.
---
SEE ALSO: Redskins WR DeSean Jackson still fighting hamstring "tweak"
---
Robinson must hold off those players to earn a starting job. But through his recovery process, Haslett made sure that Robinson maintained the faith of the coaching staff, even explaining how he'd be used once he returned to full health. It took a while. Robinson says he's there now.
"He's a lot further ahead than we anticipated, stamina-wise, mentally," Washington coach Jay Gruden said. "He's doing a great job. The linebacker position is hard to judge in shorts. But it is exciting to see him run around. He's a very fluid athlete."
Robinson, 24, has a comfort level with fellow Texas Longhorn Brian Orakpo, an outside linebacker who knows what it's like to miss a season thanks to a torn pectoral muscle. That happened to him early in 2012 after he played just two games. Orakpo and Robinson worked out together this spring in Austin.
It's a difficult injury to forget because there are few warning signs the pectoral is about to tear and it's a long recovery process. Robinson tore his right pectoral that same 2012 season when Dallas Cowboys tight end Jason Witten fell on him in a Nov. 22 win. There was little Robinson could do about that one. It is a contact sport, after all.
It is the second tear that is a concern. Robinson simply put his hand in the dirt during the first series of drills in Richmond last summer on the first day of training camp and the left pectoral gave out. This time an entire season was lost. But potential remains.
"Keenan's doing a phenomenal job. I always knew Keenan was going to be great," Orakpo said. "You look at his size, he can run, he can hit, he can cover any tight end in this league. And he's a player that I feel like is gonna have a breakout season and surprise a lot of guys.
"That's why we didn't really go after any big name inside backers to replace London. It's hard to replace a guy like London Fletcher, but we already had it in house in Keenan Robinson."
Fletcher remains a confidant. He and Robinson spoke just last month and "staying persistent" was the mantra from the old linebacker. It is a message that resonates with Robinson considering Fletcher played on teams that won titles and made the playoffs and also on teams that were routinely terrible. He's seen it all. And so while Robinson is healthy now and working his way into a starting spot, he's also not taking anything for granted.
"Right now, nothing's set, the starters and all that. We have a long time before those decisions are made," Robinson said. "They won't be made until training camp. I'm just filling in, trying to pick up where London left off. I'm just trying to do my part and make sure there's no letdown."