NEW YORK — With an easy Texan drawl and often-unassuming persona, Clint Dempsey isn't the most orthodox captain.
He doesn't offer the vocal authority of a Tim Howard. He's not an on-the-field general, a la Michael Bradley. He won't match Jermaine Jones for sheer tenacity, either.
But Dempsey is respected within the U.S. locker room as a warrior. He scores the big goals in big moments. His body is constantly on the line, absorbing foul after foul. When things get heated, he's quick to step into the scuffles.
And for those reasons, he's the one who will lead the American charge when the World Cup kicks off later this month in Brazil.
"Clint's not going to be the guy that's going to come in and rah-rah the team or anything like that," U.S. midfielder Brad Davis said. "But when he steps on the field, he's a guy that you definitely want to go to work with. You know he's going to fight, you know he's going to battle, you know he's going to have your back."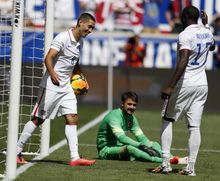 It was in March 2013 that Dempsey was handed the captain's armband. By phasing out longtime skipper Carlos Bocanegra, U.S. coach Jurgen Klinsmann decided it was time to usher in a new era of leadership.
---
SEE ALSO: Despite concerns, U.S. confident about defense heading into World Cup
---
With American soccer icon Landon Donovan away on a sabbatical (setting in motion the events that ended with his World Cup snub), Dempsey was already shouldering the brunt of the offensive responsibility. The increased leadership role exacerbated the pressure.
Yet the team rallied around Dempsey. Reeling off a 4-0-1 stretch in World Cup qualifying to kick off his captaincy, the Americans put themselves on the road to Brazil.
"I was just trying to do the best that I could to lead in the way that I know how to," Dempsey said. "My mindset hasn't changed since the day that I was named captain. I've just continued to work hard in training, lead by example and to be someone to give advice whenever I can and try to make sure that I'm playing the best that I possibly can for this team."
With Donovan's controversial omission from the 23-man squad for Brazil, Dempsey's emergence as the face of the U.S. national team became complete. Boasting 37 international goals — including tallies in the past two World Cups — Dempsey trails only Donovan on the Americans' all-time scoring chart.
Although Donovan provided the heroics at the World Cup in South Africa four years ago, it was Dempsey who carried the U.S. during a Cinderella run to the 2009 Confederations Cup final. And it was Dempsey who led the Americans with eight goals in qualifying for Brazil.
"He's been our rock," veteran DaMarcus Beasley said. "You can just see his progression, on the field and off the field as a person. He's our leader. We look to him to guide us to where we need to be."
Following seven seasons in the English Premier League, including a 23-goal campaign with Fulham in 2011-12, Dempsey returned stateside last summer to join the Seattle Sounders. Initially slow to acclimate and hampered by a shoulder injury, Dempsey has found his rhythm this season to the tune of eight goals in as many starts.
For the U.S., Dempsey is asked to do it all. Whether he's positioned as a midfielder or forward, the attack flows through the 31-year-old. His tricks and flicks on the ball give the Americans world-class creativity. He'll score a stunning strike from distance, then barrel through a defender to prod home the ugly goal as well.
"He's just one of those players that when you're on the field with him, he somehow just makes you play better," said defender DeAndre Yedlin, Dempsey's U.S. and Seattle teammate. "He just has that kind of effect."