The Washington Nationals once again showed they won't be scared off by injury when it comes to the draft, selecting UNLV pitcher Erick Fedde in the first round Thursday — two days after the right-hander underwent elbow surgery.
The pick at No. 18 overall was reminiscent of the Nationals' selection two years ago of Lucas Giolito when the pitcher was about to have Tommy John surgery, and hardly unexpected. General manager Mike Rizzo talked in the days before the draft about the Nats' long-term approach to such picks.
"You really do have to balance the risk and the reward," Rizzo told reporters. "What we've looked at in the past, is that the upside has to really trump the risk of a player not coming back from injury."
---
SEE ALSO: Astros take HS lefty Aiken with No. 1 pick in MLB draft
---
Fedde fits the Washington mold there and in one other aspect: He is represented by super-agent Scott Boras, who might as well have a satellite office at Nationals Park.
Fedde, a 21-year-old Las Vegas native, went 8-2 with a 1.76 ERA in 11 starts for the Runnin' Rebels this year before injuring his elbow. He walked 21 and struck out 82 in 76 2/3 innings and was named the Mountain West Conference pitcher of the year.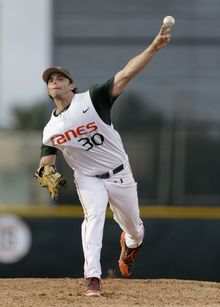 Before college, he attended Las Vegas High School, where he was teammates with Nationals outfielder Bryce Harper. Harper tweeted his congratulations to his friend soon after the pick:
---
SEE ALSO: Nats not afraid of draft prospects deemed injury risks
---
"Congrats to fellow teammate of mine in high school @ErickFedde on being drafted by the @Nationals! We got a great one DC! #Wildcat #LVpride"
Harper later added in another tweet, "So happy and proud of him!"
Washington took another college pitcher with its second-round pick at No. 57 overall, tabbing University of Miami left-hander Andrew Suarez.
The Miami native went 6-3 with a 2.95 ERA in 16 starts for the Hurricanes this season. He walked just 15 and struck out 87 in 109 2/3 innings.