Federal prosecutors on Monday said D.C. Mayor Vincent C. Gray knew firsthand about an illicit "shadow campaign" that funneled hundreds of thousands of dollars to his 2010 mayoral bid and that he personally sought the illegal cash from Jeffrey E. Thompson, who pleaded guilty to felony conspiracy charges.
Mr. Gray, who hasn't been charged in connection with the wide-ranging investigation that has resulted in guilty pleas from four of his campaign workers, dismissed the scenario.
Mr. Gray's connection was disclosed in U.S. District Court for the District of Columbia, where Thompson admitted providing more than $2 million in off-the-books funding since 2006 for seven local political races as well as Hillary Rodham Clinton's 2008 presidential bid.
---
SEE ALSO: SIMMONS: Too close to Thompson's tangled web, Mayor Gray should go
---
But most stunning were the revelations about the District's mayor, who faces a Democratic primary election in three weeks and who has long insisted that he had no knowledge of the elaborate network of straw donors and unreported campaign cash.
U.S. Attorney Ronald C. Machen Jr., who last year said the shadow campaign had "compromised" the 2010 election, declared in an afternoon press conference that the "veil of political corruption has been lifted."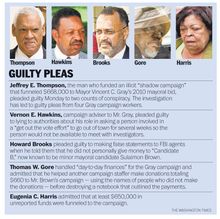 "D.C. campaigns have been compromised by covert corporate money for years," said Mr. Machen, indicating that Thompson's cooperation has opened more avenues in the investigation. "Jeff Thompson's guilty plea pulls back the curtain to expose widespread corruption."
---
SEE ALSO: Hillary Clinton campaign got illicit funds from D.C. scandal figure
---
Prosecutors during a four-hour plea hearing laid out how Thompson, 58, pledged to assist Mr. Gray before he entered the race and met with him to discuss campaign fundraising in June 2010.
Assistant U.S. Attorney Michael K. Atkinson said Thompson insisted on Mr. Gray's personal request for his support before he gave him any funds. He said Thompson asked the mayor to refer to him as "Uncle Earl," Thompson's middle name, to help maintain the secrecy.
The prosecutor said Mr. Gray presented a one-page, $425,000 budget to Thompson to pay for get-out-the-vote efforts.
Thompson, who has maintained a low profile since a March 2012 raid on his home and office provided the first public indication that he was being targeted by investigators, declined to speak to reporters before or after the hearing.
Asked by Judge Colleen Kollar-Kotelly about his involvement in the scheme, Thompson confirmed the details in short answers.
"Mayor Gray agreed to keep your support secret. Is that correct?" Judge Kollar-Kotelly asked.
"Yes, your honor," Thompson said.
"Mayor Gray asked you to pay for the get-out-the-vote campaign?" she asked.
"Yes, your honor," he replied.