Republicans and Democrats are spending millions of dollars on Tuesday's special congressional election in Florida, a race seen by leaders on both sides as the first real test of the parties' broader strategies for this fall.
The race for the Tampa-area District 13 seat, left open last year by the death of Rep. C.W. Bill Young, has taken on national interest from the get-go, particularly with the intensity of negative ads.
Polls show a tight race between Democrat Alex Sink and Republican David Jolly, with Libertarian candidate Lucas Overby potentially playing the spoiler.
"It is really clear that the national parties are both searching for a message and what sticks in a swing district in a swing state," said Susan McManus, a political science professor at the University of South Florida. "It has been nonstop negativity to the point that some have described it as 'noxious.'"
The race offers Democrats an early chance to make up some of the 17 seats they need to capture if they are to win control of the House.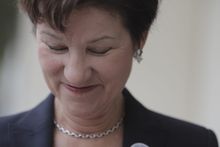 It also is an opportunity for the parties to take the temperature of voters in Pinellas County, part of the Interstate 4 corridor, which will play a key role in the state's gubernatorial election this year and the 2016 presidential race.
Democrats and Republicans have tried to temper expectations, but they are clearly hoping a victory will energize activists and donors in the run-up to the midterm elections.
Ms. Sink, the former state chief financial officer who lost the 2010 governor's race, received some good news Monday with a Public Policy Polling survey showing a lead over Mr. Jolly, 48 percent to 45 percent. Mr. Overby garnered 6 percent in the survey by the liberal-leaning polling company.
For Republicans, the race is the first major test this year of their Obamacare message, which they hope will help them retain control of the House and net the six seats needed to flip Senate control.
"Three hundred thousand Floridians will lose their coverage because of Obamacare," says an attack ad bankrolled by the U.S. Chamber of Commerce. "Alex Sink supported it, and she still does."
The Chamber of Commerce and a slew of other outside groups, including American Crossroads, the National Rifle Association and the Sierra Club, have funneled nearly $9 million into the race, according to the Center for Responsive Politics.
Ms. Sink, meanwhile, raised more than $2.5 million and Mr. Jolly raised more than $1 million.
Ms. Sink has said the Affordable Care Act should be fixed but not repealed, and she has accused Mr. Jolly of wanting to gut Social Security and Medicare.
"Jolly even lobbied for a group committed to privatizing Social Security and then lobbied on a plan to turn into a costly voucher program," a Sink campaign ad says.
The winning party is likely to claim momentum and an advantage in messaging heading into November, but special elections have not proved to be good predictors.