D.C. Mayor Vincent C. Gray used his State of the District address Tuesday to forcefully defend himself against accusations that he participated in an illegal campaign finance scheme — his first public attempt to right a re-election campaign reeling from an ongoing federal investigation in which he has been implicated.
The mayor, speaking before a friendly crowd in a Ward 7 neighborhood he once represented on the D.C. Council, trumpeted his administration's recent accomplishments during his hour-long speech.
But first he had to address the state of his own affairs.
---
SEE ALSO: SIMMONS: Too close to Thompson's tangled web, Mayor Gray should go
---
---
PHOTOS: Gray comes out fighting accusations in fund scheme
---
"I say this to all of you now, clearly and unequivocally: I didn't break the law," Mr. Gray told the crowd.
Some stood, cheered and chanted, "Four more years!"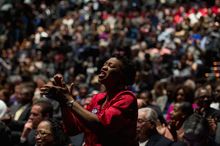 The mayor suggested that Jeffrey E. Thompson, who pleaded guilty Monday to felony conspiracy charges for funding a $668,800 off-the-books campaign on Mr. Gray's behalf in 2010, was lying when he said the mayor had full knowledge of the scheme.
"So I ask you, who do you believe: a greedy man attempting to save himself, or me, a public servant who has dedicated his entire career to giving back to our communities?" Mr. Gray said to applause.
Much of the crowd shouted, "You," but one heckler yelled out, "Uncle Earl" — a name Thompson instructed Mr. Gray to use when referring to him.
He made the speech three weeks before a hotly contested Democratic primary election that is almost certain to turn on whether voters believe Mr. Gray — who maintains he knew nothing of the "shadow campaign" that operated on his behalf — or U.S. Attorney Ronald C. Machen Jr., whose prosecutors named Mr. Gray as a co-conspirator in open court and who pledged to lift the "veil of political corruption" in the city.
Glen Donath, a former assistant U.S. attorney who worked in the District's fraud and public corruption section, said the showdown is "almost the legal equivalent of a game of chicken."
"I found Mr. Machen's comments to be almost unprecedented. He was sending shots across the bow at Mr. Gray," he said.
Mr. Donath said the timing and language of the Thompson plea were "designed to convince [the mayor] to either pull out or come to terms with the prosecutors."
Based on the nature of the remarks, Mr. Donath said, prosecutors likely have had extensive debriefings with Thompson and might be in a position to bring charges against others before the election.
Prosecutors are advised not to time investigations with elections, but D.C. lawyer A. Scott Bolden said they essentially did the next best thing by unleashing a "political bombshell" that could hobble the mayor's efforts in the primary.
"This will prove to be politically embarrassing to the mayor and will have a major impact on the race for voters who were on the fence," Mr. Bolden said.