NOME, Alaska — Two hours, 38 minutes.
That's how long musher Aliy Zirkle spent waiting out a storm at the final checkpoint, 22 miles from the finish line of the Iditarod Trail Sled Dog Race.
Nineteen minutes.
---
PHOTOS: Zirkle regains lead in Iditarod
---
That's how much of a lead Dallas Seavey had over Zirkle in leaving the checkpoint, in Safety.
Two minutes, 22 seconds.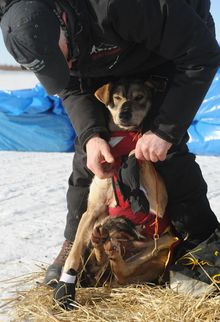 That was Seavey's winning margin over Zirkle early Tuesday morning.
Seavey ran a blistering pace to rally from third place and win his second Iditarod early Tuesday in a record-breaking finish. The twist ending to the 1,000-mile long competition came after a sudden storm blew front-runner Jeff King out of the competition.
The victory was so strange that Seavey said he didn't even realize he won the race until about 90 seconds after he crossed the finish line.
"Man, this is a lot of people coming out to see third place come in," he thought about the hubbub when he arrived in Nome.
He thought he was "racing my dad for third," he said. But the trailing musher he thought was his father, defending champion Mitch Seavey, was actually Zirkle, and they were battling for first place.
Only Zirkle knew it, though.
"Sure, yeah, hindsight, blah, blah, blah … second's pretty good," Zirkle said about her third consecutive runner-up spot.
"I'm sure I'm going to be bummed," an exhausted Zirkle told fans who mobbed her in the city's convention center, where top mushers traditionally meet with fans immediately after coming off the trail.
But she also noted that three second places are "better than scratching."
The strange finish started Monday afternoon when four-time champ King enjoyed an hour's lead over Zirkle and left the checkpoint at White Mountain.