Four months into his papacy, Pope Francis made an unscheduled stop during his trip to Brazil for World Youth Day. At the Cathedral of Rio, a large audience of young people waited expectantly in the July rain.
Speaking informally, Francis told those gathered to shake up things by fighting for their values and beliefs: "I want the church to go out to the street!"
For the Denver-based mission Christ in the City, that model has been followed for years.
---
SEE ALSO: Boehner invites Pope Francis to address Congress
---
"Go out, look personally at people," said Executive Director Alejandro Bermudez. "Look for the person, and that's what Christ in the City is about."
Founded five years ago by Catholic Charities Denver, Christ in the City embodies "loving until it hurts in order to serve those most in need."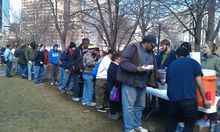 Its young missionaries serve from a few weeks to an entire year.
The Catholic outreach project melds easily with the people-first approach of Francis, who Thursday marked his first year as pontiff.
Dubbed the "slum pope" because of his work with the poor, he is the first to choose the name Francis in honor of St. Francis of Assisi, who chose to live in poverty.
Francis made headlines just weeks after his election with a Maundy Thursday Mass where he washed the feet of two women, a ritual traditionally reserved for men.
Asked about homosexuality, the 77-year-old Argentine native replied, "Who am I to judge?" His response registered applause and shock among the faithful.
In May, Francis is scheduled to visit the Holy Land.
Christ in the City takes a literal approach to Francis' words with its homeless task force.
"We go and meet the homeless where they are," said Mr. Bermudez, 53, who has helped lead the mission for three years. "We look to start a relationship so we can go and become their friends, gain their trust. Little by little, friendship leads to conversation. Conversation leads to questions about their life: Why are you like this? What can we do to help you?"
It was the writings of Pope John Paul II — who is to be canonized in Rome next month with Pope John XXIII — that inspired Mr. Bermudez to start the homeless task force.
Mr. Bermudez said the beloved pope wrote that humanity needs to be concerned about areas where poverty is rife, even in America.