Tea party and conservative groups have been able to pick a clear favorite in most of this year's Senate GOP primaries — but that's not the case in Nebraska, where four candidates, all claiming conservative bragging rights, are running.
It's a contest that has produced a fascinating split of major political figures and key interest groups, in a race conservatives say cannot go wrong for them — no matter who emerges.
Last week, Ben Sasse, a former Bush administration health official, won an enthusiastic endorsement from former Alaska Gov. Sarah Palin, who called him "the clear conservative choice." Her backing follows that of Republican Sens. Mike Lee of Utah and Tom Coburn of Oklahoma, and big-time interest groups the Club for Growth and the Family Research Council.
---
SEE ALSO: Mitch McConnell on beating tea party: 'We are going to crush them'
---
Shane Osborn, meanwhile, has won support of Concerned Women for America, Phyllis Schlafy, the head of the Eagle Forum, and FreedomWorks, a group that has helped boost tea party candidates over the previous two election cycles.
But even Matt Kibbe, the president of Freedomworks, signaled the difficulty in making a selection, telling Glenn Beck earlier this month that despite his backing for Mr. Osborn, GOP voters can't go wrong if they picked Mr. Sasse instead.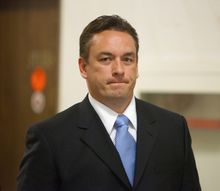 "What's interesting about it is, I think we're having a serious family disagreement about who of these two candidates is better, but one of them is going to win," Mr. Kibbe told the talk show host. "So you're either going to be stuck with Mike Lee's favorite candidate or FreedomWorks's favorite candidate, and I'd call that a win-win."
Mr. Kibbe added, "Mike's wrong, and I'm right, let's be clear about that."
Omaha attorney Bart McCleay and Omaha banker Sid Dinsdale round out the field of four, though the polling — and the public endorsements battle — seem to show the race is a two-man affair between Mr. Sasse, a university president, and Mr. Osborn, a former Navy pilot who served as state treasurer.
Whoever wins the May 13 GOP primary is expected to go on to win the November election in the reliably red state.
All four candidates are promising to repeal and replace Obamacare, and touting their pro-life stances. They also are vowing to reduce spending and taxes, to protect the Second Amendment and to strengthen border security.
"It is not clear that there are any substantial policy differences between, say, Sasse and Osborn, so it is difficult for outside interest groups to know which way to go," said John Hibbing, political science professor at the University of Nebraska-Lincoln.
"The candidates are mostly competing to out-conservative each other," Mr. Hibbing said. "All the national groups can do is to try to get a read of the candidates and then make their best call as to which is the most conservative — or the most likely to push hard on their key interest."
The race stands in contrast to other GOP primaries, such as the Kentucky battle between Senate Minority Leader Mitch McConnell and insurgent tea party-backed candidate Matt Bevin, or the Mississippi race between Sen. Thad Cochran, one of his party's most senior lawmakers, and challenger Chris McDaniel, a state senator who has won the backing of the Club For Growth, the Senate Conservatives Fund and the Madison Project.
In Nebraska, Mrs. Palin said she endorsed Mr. Sasse, a former health official in the George W. Bush administration, because he knows "that Obamacare is as bad as it gets" and he would push a conservative vision for the future that demands the GOP establishment to immediately address the nation's debt.
The Club for Growth said that Mr. Sasse "knows how to dismantle Obamacare" and "will be an ally of champions of economic freedom like Ted Cruz, Pat Toomey and Rand Paul."