ANALYSIS:
With a clean sweep in more than a dozen battles in state courts in less than a year, some see the movement to legalize same-sex marriage as an unstoppable juggernaut.
But officials in three states are fighting back, banking on the founding principle of states' rights to set up a legal breakwater to preserve laws in defense of traditional marriage.
States have "sovereign authority" — so the theory goes — over their own domestic policies, including marriage laws, and just as the federal government can't deny state laws recognizing same-sex marriage, neither can Washington impose same-sex marriage on the states that choose not to adopt it. That is the argument state officials in Oklahoma and Utah have made in briefs to a federal appellate court considering their marriage laws.
"There is no fundamental 14th Amendment right to a State marriage certificate allowing two people of the same-sex to marry," Idaho Gov. C.L. "Butch" Otter, a Republican, said in his own brief to a federal judge.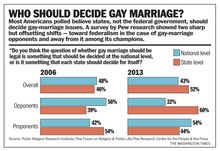 These states' rights views are bolstered by two bills in Congress that would require federal agencies to defer to state laws — not ignore them — when it comes to deciding marital status.
That argument is the most direct challenge to date to gay plaintiffs and a slew of federal judges in recent months who have argued that the 14th Amendment's due process and equal protection clauses trump state laws and guarantee same-sex couples the right to marry.
State officials may argue that states have exclusive authority to regulate marriage, but even states have to "respect the constitutional rights of persons," Utah gay-marriage plaintiffs Derek Kitchen and Moudi Sbeity said in a legal brief to the 10th U.S. Circuit Court of Appeals.
Seven state law officials, all Democrats, have said they wouldn't defend their states' marriage laws because they have concluded the bans on same-sex marriage are unconstitutional. "The United States Constitution is designed to protect everyone's rights, both the majority and the minority groups," said Kentucky Attorney General Jack Conway, a Democrat who recently joined attorneys general in California, Pennsylvania, Illinois, Virginia, Nevada and Oregon in taking a stance that also has been adopted by U.S. Attorney General Eric H. Holder Jr.
Equal rights asserted
The states' rights legal argument is one of many employed in the two dozen gay-marriage court battles that have broken out since the Supreme Court's landmark decision in June striking down the federal law against same-sex marriage. Just this month, challenges against traditional marriage statutes have been filed in Wyoming, Indiana and Florida.
But the legal strategy represents a striking escalation of the constitutional fight, pitting the 10th Amendment, which gives states all legal powers not specifically delegated to the federal government, against the 14th Amendment, which was enacted in 1868 to ensure that post-Civil War blacks and other minorities were treated equally under state law.
Many constitutional scholars see the 14th Amendment prevailing.
"I take the position that when a state passes a law, it has to apply equally to everyone unless there's some very good reason why it shouldn't," said Ilya Shapiro, senior fellow of constitutional studies at the Cato Institute. "For example, people have the right to keep and bear arms. But if you are mentally ill, you might not have that right, or if you are a convicted, violent felon, you might not have that right."
In regard to marriage, he said, the arguments to recognize only man-woman unions are simply not strong enough to deny such rights to same-sex couples.