Republican officials said Monday that they have improved their nuts-and-bolts campaign and are making big strides in voter outreach — but there is little evidence that it is making a difference in reaching the minorities, women and young voters who are key to winning national elections.
A year after the Republican National Committee's 2012 election postmortem, which found the party lacking on everything from strategy to message, officials said RNC Chairman Reince Priebus has led the charge to take care of the mechanical problems, including revamping digital operations and hiring hundreds of field staffers in minority communities.
"I think we are making positive strides," said Glenn McCall, a national committee member from South Carolina and one of the report's authors. "I am sure we are not where Chairman Priebus and the party wants us to be, or the committee, but I feel that we are making solid progress and comprehensive progress to make us successful and take our message to all people."
After the 2012 elections, the RNC tapped several consultants to report on how the party lost what many analysts had said was a winnable election for Republicans against an incumbent Democratic president in a poor economy. Their report said Democrats outperformed the GOP in digital operations, strategy, messaging and flanking on issues such as immigration.
A year later, the report authors say, the party has made strides. One piece of evidence is the special congressional election in Florida last week in which Republican David Jolly fended off a strong challenge by Democrat Alex Sink to hold on to the seat for the GOP.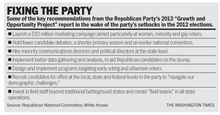 They said credit goes to Mr. Priebus and others for recognizing what changes were needed.
"I have been very pleased watching not only Reince, but other Republican groups, take that report and take many of the ideas that we brought forward and really executing them in a serious way," said Henry Barbour, an RNC member from Mississippi who helped write the report. "I think it has put us in a stronger position for 2014 and I think it is also putting us in a strong position for 2016."
Others said Republicans are still struggling to bolster the party's appeal beyond its aging white base, which analysts said is the key measure for the health of the GOP.
Sylvia Manzano, a principal at Latino Decisions, said Republicans will continue to struggle with Hispanic voters unless they help pass reform that legalizes illegal immigrants or, at the very least, muzzle rank-and-file members who refuse to soften their rhetoric on the issue.
"The leadership seems to be onboard, but if their candidates and elected officials don't follow suit, it doesn't matter what their report has to say," Ms. Manzano said. "If their policies are oriented toward punishing Hispanics or punishing immigrants, and their policy rhetoric and campaigns clearly posits Hispanics as the enemy or a scapegoat, then they are not going to make inroads with Hispanic voters."
David A. Bositis, of the Joint Center for Political and Economic Studies, said Republicans must do more than hire minorities in order to reach black voters. He said major policy shifts would be needed.
"African-Americans are not hostile to government," Mr. Bositis said. "They don't consider that unemployment benefits or food stamps are slavery. They consider unemployment benefits or food stamps to be a good government program. They don't consider Medicaid to be slavery. They consider Medicaid to be health care."
As for young voters, Trey Grayson, director of the Harvard Institute of Politics, who specializes in the politics of millennial voters, said Republicans haven't made up ground there, either.
"Republicans, in general, still aren't faring as well with younger voters despite the decline in support for the president," Mr. Grayson said. "To date, it's been a missed opportunity."
The latest poll from the Institute of Politics found that Mr. Obama and congressional Republicans have experienced similar drops in support among young voters.