The fermented pickle isn't typically on the all-American list of go-to munchies.
But for the founders of Arlington-based Number 1 Sons, fermented pickles, a pungent sauerkraut or a batch of kimchee always can be found on the menu.
Although the District of Columbia is not considered one of the nation's premier pickle producers, brother-sister pair Yi Wah and Caitlin Roberts have made it their business to offer fermented vegetables in a variety of guises, a product line you won't find on the shelves of Wal-Mart.
"Comparing jarring to pickling, you are creating a sterile environment where these pickles live in the jar, whereas our pickles and our foods are still very much living," said Ms. Roberts. "That's part of the fun. The flavors can still kind of evolve and they're active."
In the siblings' 1,000-square-foot pickle factory in the city's Clarendon neighborhood, the blue 50-gallon vats of half-sours and kicky kosher emit a cloud saturated with salt as part of the fermentation process.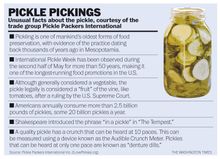 A bite into a half-sour stuns the tongue with a palpable fizzing sensation and powerful punches of flavor, so striking it makes one wonder whether it is safe to eat. Along with pickles and krauts, Number 1 Sons offers Korean-style kimchee, including a kale-based variety, and a sampling of salsas and pickled beans, beets, carrots and turnips.
Mr. Roberts, a restaurateur, and Ms. Roberts, who has graduate degrees in government and microbiology, take pride in manipulating the science of fermentation to produce the sharp flavors and exotic effects.
"That's why you get that fizziness, kind of like soda, because there is some carbon dioxide that's released as part of the fermentation process," she said. "For our foods, you're getting really good microbes for your body. You're replenishing your gut or your flora and fauna of your body."
According to Pickle Packers International, a trade association for the pickled vegetable industry, nearly 70 percent of American households eat pickles. Americans consume more than 9 pounds of pickles per person annually.
Big-name brands such as Heinz, Claussen and Vlasic may dominate the mainstream grocery shelves, but the District's "craft" picklers are starting to make their mark, with small producers such as Gordy's Pickle Jar, In a Pickle, Oh! Pickles and Fresh Crunch Pickles joining Number 1 Sons in the local market.
Gordy's is sold in 100 retail stores, and co-founder Sarah Gordon said the local picklers have a camaraderie along with the competition.
"There's always been one goal from the start: To create community and make the best pickles at the same time," Ms. Gordon said in an email. "Owning and operating a start-up requires enormous amounts of sacrifices, so be ready to give 100 percent to whatever you set out to create."
Growing up with pickles
The founders of Number 1 Sons say they benefit from a heritage that does not shy away from pungent flavors.
"A lot of the foods we eat are fermented: cheese, some types of bread, sourdough, chocolate, coffee, wine, beer. The list can go on and on," Ms. Roberts said.