ANALYSIS/OPINION:
The rehabilitation of Barry Bonds began last week when the San Francisco Giants invited him to spring training in Scottsdale, Ariz., for a community service stint as a special hitting coach.
I'm sorry — I got this confused with his sentence for obstruction of justice for his laughable grand jury testimony about using performance-enhancing substances in the BALCO investigation. He got 30 days of home confinement and two years probation for that felony.
This wasn't part of any community service requirement. Someone in the Giants organization wanted to test how polluted the waters are for the acknowledgement that Bonds once wore the Giants uniform, and they came up with a one-week spring training invite.
Bonds himself told reporters it was "baby steps" but he is available if the Giants need him for other duties — you know, maybe like a goodwill ambassador.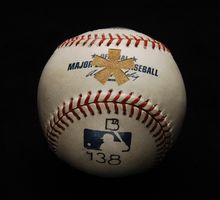 Wouldn't that be rich.
Bonds also let the world know that he should be in the Hall of Fame. "Without a doubt," he told reporters when asked if he belonged in Cooperstown.
Bonds will have a statue outside of AT&T Park before he has a plaque in the Hall of Fame.
Let's see the Giants really embrace Bonds. Do they have the nerve to put up a statue honoring his legacy? There are five statues outside the ballpark — Willie Mays, Willie McCovey, Juan Marichal, Orlando Cepeda and one honoring the minor league club that played in the city before the Giants moved from New York, the San Francisco Seals.
If they put up a Bonds statue, will it be life-sized? Which life? The bloated one when he set the record, or the slimmed-down normal one now?
In two Hall of Fame ballots so far, Bonds, who has the all-time home run record with 762, received just 36.2 percent and 34.7 percent of the required 75 percent needed for election to Cooperstown. He has 13 more tries on the ballot, and with players like Chipper Jones, Ken Griffey Jr., Randy Johnson, Mariano Rivera and others on the ballot in the coming years, it won't get easier for Bonds.
Bonds also told reporters that he is "the same person, just a different character when I was playing."
Well, if Bonds is the same person, then he's got a problem — an ironic one.
Even if Bonds does wind up elected to the Baseball Hall of Fame, there is something blocking him from accepting the honor — the very ball he hit to break Hank Aaron's 755 career home run record (the ball that Nationals pitcher Mike Bascik threw).
That ball — home run number 756 — was purchased by fashion designer Marc Ecko in an online auction for $750,000. He set up a website for fans to vote on what to do with the ball. Ecko said fans voted to send the ball to the Hall of Fame — with an asterisk.