Amid the celebration and circumstance at Smith Center on Sunday, Pammy Morgan sat behind the George Washington men's basketball team, tears welling in her eyes and streaming down her cheeks.
The basketball career of her son, Maurice Creek, had made her emotional many times before, but never like this. Although she promised herself she'd remain composed before showing up for the school's Selection Sunday party, the opening tones of the familiar tournament montage produced by CBS brought all kinds of memories flooding back.
"When that 'One Shining Moment' music came on, and then everything that he's gone through — something just went through me and I just could not hold back the tears," Morgan said. "It was just amazing, and again, it did make me think about all that — not the adversity, but all that he's overcome to get to where he is today. It's just amazing."
Creek, a 23-year-old graduate student, led the Colonials in scoring with 14.3 points per game, hoping all season he would once again play in an NCAA tournament game. That belief was rewarded, as George Washington (24-8, 11-5 Atlantic 10) was selected to participate in the tournament for the first time in seven years.
The Colonials, the No. 9 seed in the East Region, will begin play Friday in Raleigh, N.C., against No. 8 seed Memphis.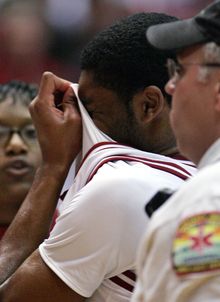 Creek, an Oxon Hill, Md., native, was one of the country's top recruits when he signed with Indiana in 2009, and he captured the nation's attention with a 31-point game against rival Kentucky as a freshman.
The rest of his time with the Hoosiers was marred by injury: He broke his left kneecap in the final game before Big Ten play began that season, then missed the second half of his sophomore year with a stress fracture in his right kneecap, and then tore his right Achilles tendon when he fell down a staircase before his junior year.
Even his senior year was interrupted by an unspecified right foot injury. When he returned in time for Indiana's postseason run, he was just a rotational player behind fellow D.C.-area native Victor Oladipo, who was taken No. 2 overall by the Orlando Magic in the NBA draft last June.
"I tend not to think about it, because whatever happens in the past is in the past," Creek said. "A lot of people want to bring it up, and they want to see how I'm feeling, but I don't really think about that. I just love the game of basketball."
The Hoosiers had no use for a player coming off three surgeries in four years, yet Creek was unwilling to let the game go. After graduating from Indiana, Creek explored enrolling close to home at George Washington, where he could enroll as a graduate student and play immediately.
GW coach Mike Lonergan was initially hesitant to accept Creek's transfer. During his six seasons at Vermont, he could recall bringing in only one transfer student — a second was already on the roster when he was hired — and after Isaiah Armwood had transferred from Villanova during Lonergan's first season at GW, he grew leery of littering his roster with other programs' cast-offs.
But the Colonials desperately needed a shooting guard, and Lonergan knew Creek, despite his injuries, could address that need. The worst-case scenario, he figured, would be that Creek couldn't play, at which point he'd ask him to stay around as a student assistant to coach some of the Colonials' younger players.
Those fears quickly were dispelled. Lonergan constantly asked his other players for a scouting report when Creek would join them for pick-up games at the Smith Center, and nearly every time, they'd tell him Creek looked great— smooth, confident and healthy.
"This guy has had a broken kneecap, torn Achilles — he's had three major, career-ending things, and he never gave up," said Lonergan. "His legs look like toothpicks, he can barely run, but he can shoot. … He's really helped us. I'm happy for him."
Creek scored 27 points and made six crucial free throws in the final 1:10 of the Colonials' first road game, an 80-74 victory at Manhattan on Nov. 16. He also drilled a step-back 18-footer from the top of the arc with 0.6 seconds remaining as GW defeated Maryland 77-75 at the Verizon Center on Dec. 8.