Capitals defenseman Dmitry Orlov scored two goals and had his team on the verge of moving into a playoff position for the first time in six weeks. But then his career day suddenly turned into a nightmare and there was no one to blame but himself.
Orlov, angry over a hit by Philadelphia Flyers defenseman Brayden Schenn, lost his cool at the worst possible time. His hit from behind on Schenn drew a five-minute boarding penalty midway through the third period.
The Flyers scored on the ensuing power play, Washington tired, and in the end a two-goal advantage disappeared Sunday afternoon at Verizon Center. Vincent Lecavalier's overtime goal lifted Philadelphia to a 5-4 victory in a game the Caps should have won.
"It's not a disciplined play," Caps coach Adam Oates said. "And I know [Orlov is] a young guy. We count on him a lot. But we need him to be under control. We need everybody to be under control there."
It didn't happen. Orlov, 22, was not made available to comment after the game. He opened the scoring at 6:06 of the first period with a rocket of a shot off a pass from teammate Troy Brouwer. Late in the second period he appeared to put Washington in control with a blast from the point that beat Philadelphia goalie Steve Mason (25 saves) and made it 4-2.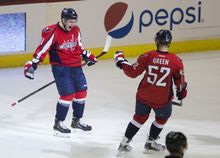 But that was the end of the scoring for the Caps. Jakub Voracek made Orlov pay for his penalty after a power-play goal with 8:02 left to play in the game. Flyers captain Claude Giroux then tipped the game-tying goal with 1:05 to go and Mason pulled for the extra attacker. Lecavalier's game-winning shot appeared to clip off the leg of Washington defenseman Karl Alzner and waffled past goalie Braden Holtby (31 saves).
"That's not the way we wanted this game to end," Caps forward Eric Fehr said. "We know what to expect from their team. They're going to finish all their checks and they're going to try and intimidate you. We just need to play our game.
"That's not the style we play. We don't try to intimidate teams, we try to out-skill teams, out-work teams and score goals that way. We just have to stick to our game plan and not get baited into theirs."
Instead, Orlov's penalty overshadowed the first multi-goal game of his career. It also kept Washington (29-23-10, 68 points) from hopping Philadelphia (32-24-6, 70 points) in the standings and into third place in the Metropolitan Division. The Caps would have been in a playoff position for the first time since Jan. 18.
"At speed in the game, [Schenn] was there and [Orlov] hit him and hit him hard. It was a boarding," Oates said. "But for me it's because you had a great game, scored two goals. Now is not the time. We need to be disciplined. We talk about it all the time. That's the kind of game that [Philadelphia] wants to play. They're good at that. We're not."
So for now, the Caps are even in points with idle Detroit (28-20-12, 68 points) for the final wild-card berth, but in ninth place in the Eastern Conference thanks to the tiebreaker. The Red Wings have more regulation and overtime wins. Washington does get another crack at the Flyers on Wednesday night in Philadelphia.
That didn't make the loss any easier to take. The Caps briefly pulled to within a point of the New York Rangers, who were also just ahead of them in the division standings pending a late game Sunday night at home against the Boston Bruins. But this was the third time they've blown a two-goal lead in the last three games — though they won Thursday night in Florida even after doing so twice in that contest.
"It's terrible," forward Marcus Johansson said. "Obviously, [Orlov] hurt us with that five-minute penalty, but we have to find a way to close out these games and not let them back in it."
Washington is 2-0-1 since returning from the Olympic break and 7-2-2 since snapping that disastrous seven-game losing streak on Jan. 25. But these are the missed opportunities that could haunt the Caps as the playoff race charges into its final six weeks. The Flyers left the District with the extra standings point and there are just 20 games left to go. Washington must sit with that until the rematch Wednesday.
"We're going to be feeling pretty sour for today," forward Jay Beagle said. "We'll try and put it behind us for [an off day on Monday] and then have a practice and go right to Philly and go back to work. Let's try and get some revenge."