As Russia ignores international warnings and mounts a full takeover of Ukraine's strategic region of Crimea, White House officials and U.S. lawmakers struggled Sunday with how to deal with Russian President Vladimir Putin's defiant aggression.
Secretary of State John F. Kerry promised serious repercussions for the violation of Ukraine's sovereignty, echoing President Obama's warning last week about the "costs" of military intervention.
Yet the U.S. appears to have few effective options to punish Russia for its actions, which Ukrainian officials consider to be "a declaration of war."
---
SEE ALSO: How low can it go? Markets punish Putin in way diplomats can't
---
Mr. Kerry, who appeared on four Sunday political talk shows, stressed that all options are on the table, but it's clear military force is unlikely.
Instead, the U.S. and its allies are considering economic sanctions and a suspension of the nearly $40 billion-per-year U.S.-Russia trade relationship.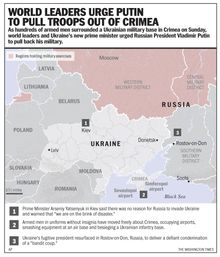 In another move of condemnation, the U.S. and its key allies — Canada, France, Germany, Italy, Japan and Britain — have halted planning efforts for the June meeting of the Group of Eight, set for Sochi, Russia.
---
SEE ALSO: GOP to John Kerry, Obama: You make U.S. look 'weak' to world
---
But those moves, if they come to fruition, may not sway Russia, some analysts say.
For Mr. Putin, who has invaded Ukraine under the auspices of protecting ethnic Russians and securing Russian military bases in the flashpoint region of Crimea, punishment from the international community may pale in comparison with the benefits of annexing key parts of Ukraine and expanding his influence across the old Soviet bloc.
"He's made a cost-benefit analysis. He has weighed the costs of doing what he's done and he has viewed the benefits of it and clearly he has concluded the benefits far outweigh the costs. We need to endeavor to change that calculus," Sen. Marco Rubio, Florida Republican, said during an interview on NBC's "Meet the Press" on Sunday.
Ukraine's new government — formed last week after months of protests aimed at the nation's former pro-Russian president, Viktor Yanukovych — called up reservists Sunday as Russian troops increase their presence in Crimea. Mr. Putin's forces already have taken control of several military bases in the area, and hundreds of Russian troops also were seen heading toward Crimea's regional capital of Simferopol.
Men in military uniforms with no insignias already are in the city's central plaza, according to news reports.
NATO leaders called a meeting Sunday to discuss the situation. Secretary General Anders Fogh Rasmussen called on Moscow to "de-escalate the tensions" in Crimea.
Mr. Kerry made similar admonitions, saying Russia's actions call into question the country's "capacity to be within the G-8." He suggested that isolation by the U.S. and its allies and the removal of Russia from the powerful G-8 and G-20 organizations could be a key tactic moving forward.
Mr. Kerry also called Mr. Putin's military aggression "a 19th-century act in the 21st century," saying Moscow risks irreparable damage to its relationships with other nations.
The secretary of state also announced plans to travel to Kiev on Tuesday and meet with senior representatives of Ukraine's new government.