ANALYSIS/OPINION:
VIERA, Fla. — There are all different kinds of quotes, and uses for them. The previous Washington Nationals manager, Davey Johnson, was quotable.
His successor, Matt Williams, likes quotes.
These are not the same thing.
The quotes you would get from Johnson were the kind that would wind up leading a story in the newspaper the next day, like this: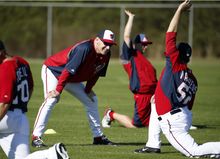 "I might slit my wrists or something, but I'm not quitting."
---
SEE ALSO: After two years with Nats, popular Chad Tracy finds new home
---
The quotes from Williams are the kind of spam you find in your email box every morning, under the category, "Inspirational quote of the day."
Such as, "Perfection is unattainable, but the pursuit of perfection is imperative."
Williams would just as soon that you don't find anything particularly quotable in his daily comments to the media — unless, of course, you want to go with, "Every pitch we make is with conviction."
He sees the value in quotes — for him, though, not for us. Every day in spring training, in the Nationals clubhouse at Space Coast Stadium, Williams posts a quote of the day on the daily schedule, located on the cork board in the clubhouse near the entrance.
Here are a few of his offerings so far:
"There is a difference between control and command."
"Expect the ball to be hit; Demand it be caught."
"Humility is an athlete's greatest attribute." (The previous guy wasn't a big fan of this one).
"If not you, then who?"