Trendy electric car maker Tesla is trying to take a side road that bypasses the business model for selling cars that has dominated the market for decades.
But the company is locking bumpers with angry and politically potent car dealers, with Ohio the latest battleground over whether the direct-to-consumer sales model will be allowed.
The California-based Tesla is a fully packaged auto business that runs the design, development, manufacturing and selling of its electric-powered luxury cars.
Instead of drawing a line between the automobile manufacturer and locally owned car dealerships with big outdoor lots, Tesla does the selling in its own stores, many in high-traffic retail malls.
Tesla says its business model, which the industry is watching, gives it a closer connection to customers and makes the buying process more enjoyable.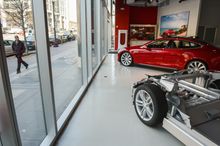 But dealers and many states say Tesla owner Elon Musk is challenging a system that has provided needed protections for consumers in what is often one of the biggest purchases of their lives.
"The distinctly different roles of dealers and manufacturers act as a system of checks and balances to ensure that warranty and other service issues are administered fairly," Joe Cannon, a lobbyist for the Ohio Automobile Dealers Association, said in testimony before Ohio lawmakers last week.
Ohio is seeking to do what states such as Texas, New Jersey and Arizona have done: impose a legal ban on the sale of vehicles by their manufacturer.
As Tesla counters established standards, lawmakers are strengthening state laws to make sure the business model doesn't become a trend among independent car manufacturers.
"All states have laws and regulations on the sale of new motor vehicles. Some allow automakers to sell directly, while others require dealers as an additional layer of accountability," the National Automobile Dealers Association said in an emailed statement to The Washington Times. "It is up to each state to decide whether Tesla or any manufacturer is complying with the laws regulating the sale of new cars and light trucks."
While states say they are acting in defense of locally owned and independent businesses, Tesla spokesman Patrick Jones said his company isn't affecting those dealerships.
"From the beginning, Tesla's business model has been to sell direct to consumer, so in no way are we displacing long-established businesses that are locally owned and operated," he said in an email statement.
Mr. Jones said Tesla sold 22,000 vehicles last year, compared with "larger manufacturers which pump out hundreds of thousands of cars each year."
In states that have banned the sale of automobiles directly from the manufacturer, Tesla is transforming its stores into galleries and operating with a "look, but don't touch" policy. Representatives can talk about the cars, but they will not offer test drives or talk about prices.
Since Texas enacted its law, residents can buy Teslas only out of state or by using the company's Internet-based order and delivery system.