The Obama administration on Friday expressed concern over Turkey's decision to ban Twitter and urged the government in Ankara to lift the restrictions.
"This action is contrary to Turkey's own express desire to uphold the highest standards of democracy and efforts to attract foreign investment," State Department spokeswoman Jen Psaki told reporters at the daily briefing. "We urge the Turkish government to unblock its citizens' access to Twitter and ensure free access to all social media platforms."
Turkey's courts blocked access to Twitter on Thursday after Prime Minister Recep Tayyip Erdogan vowed to "wipe out" the service that has been instrumental in revealing alleged corruption inside his government.
Turkish President Abdullah Gul, an ally of Mr. Erdogan, joined millions of Turks in flouting the ban by expressing his criticism of the attempted blockade on Twitter.
"The shutdown of an entire social platform is unacceptable," Mr. Gul wrote in a message posted on his Twitter account. "Besides, as I have said many times before, it is technically impossible to close down communication technologies like Twitter entirely. I hope this measure will not last long."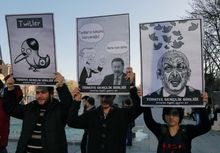 Mr. Gul and Mr. Erdogan belong to the AK Party.
Mr. Erdogan also has a Twitter account, but has not posted any messages since the ban went into effect.
The U.S. ambassador to Turkey, Francis J. Ricciardone Jr., conveyed the Obama administration's concerns to Turkish officials. Ms. Psaki declined to say to whom the ambassador had spoken.
"We pretty clearly conveyed our belief that there shouldn't be a block on Twitter," said Ms. Psaki.
Turkey is "going to make their own decisions, but we conveyed privately as strongly as we've spoken publicly," she added.
White House press secretary Jay Carney condemned the move Friday afternoon during his daily press briefing.

"We oppose this restriction on the Turkish people's access to information, which undermines their ability to exercise freedoms of expression and association and runs contrary to the principles of open governance that are critical to democratic governance and the universal rights that the United States stands for around the world," he said.
Mr. Erdogan has repeatedly threatened to shut down social media sites, including Facebook and YouTube, after audio recordings implicating his family and ministers in corruption were leaked.
One such recording is alleged to be between Mr. Erdogan and his son discussing hiding money.
Mr. Erdogan has dismissed the recordings as fakes and part of an international conspiracy to topple his government; he has accused social media users of launching a "smear campaign" against his government.
Ms. Psaki dismissed as false any notion that the U.S. was behind the Twitter posts.