When the Department of Homeland Security submitted its master plan for its headquarters on the west campus of St. Elizabeths Hospital in 2006, officials projected they would move into the new facility by 2015.
But today, construction is a decade behind schedule and at least $1 billion over budget. And Homeland Security, which as of September had received $1.3 billion, will need at least an additional $3.2 billion to complete the renovation of the 159-year-old mental hospital by 2026, according to a report by the nonpartisan Congressional Research Service.
That has some lawmakers questioning whether the project — which was expected to unify an agency and revitalize a blighted area of the city — should be sent back to the drafting table.
"Frankly, I just fail to see how this is an appropriate use of taxpayer dollars — to spend this kind of money for a headquarters — and I'm just really disappointed in the way it's played out," Rep. Richard Hudson, North Carolina Republican, said during a House Committee on Homeland Security hearing last month.
The setbacks come after years in which D.C. authorities tried to entice private companies to renovate the dilapidated west campus of the historic mental health facility that sits on 176 acres overlooking the Anacostia River. But businesses found it too costly to overhaul its infrastructure and upgrade its facilities, so parts of the hospital sat rotting for years.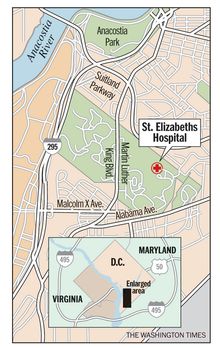 In 2006, the federal government promised to renovate St. Elizabeths by making it the new headquarters for the Department of Homeland Security. Federal officials pledged to keep many of the campus's historical buildings and return them to their original integrity, and city leaders hoped the new development would spark growth in the District's poorest ward.
In addition, Homeland Security took on a green initiative — deciding to outfit the campus' buildings (some dating back to 1855) with features like rainwater toilets and Brazilian hardwood in the name of sustainability. The aim is for the campus to receive a Leadership in Energy and Environmental Design certification for green buildings.
What's more, St. Elizabeths needs to be fortified with 21st-century technologies so that DHS can accomplish its cybersecurity and antiterrorism missions. The city, which controls the east campus, has pledged tens of millions of dollars in infrastructure improvements to make way for residential and commercial development.
But the revitalization hinges on the federal government's progress on the west campus — the largest construction project in the D.C. area since the Pentagon was completed in 1943. And one that is increasingly being met with skepticism by federal lawmakers.
"We ought to stop and try to re-evaluate this before we spend another dime," said Rep. Jeff Duncan, South Carolina Republican and chairman of the House Homeland Security subcommittee on oversight and management efficiency. "As government, we can't just keep spending money we don't have and borrowing money we don't have, and can't ever repay, to continue projects like this."
During a House Committee on Homeland Security hearing on Feb. 26, Homeland Security Secretary Jeh Johnson was asked if he would be willing to create a more cost-effective plan to headquarter the nation's third-largest agency.
"I think that the morale of DHS, unity of mission, would go a long way if we could get to a headquarters," Mr. Johnson said. "I also believe we ought to finish what we started. We're investing a lot of money in this project, and there is a certain wisdom to finishing what you started."
Created in 2003 in the aftermath of the Sept. 11 terrorist attacks, the Department of Homeland Security comprises 22 agencies, including the U.S. Coast Guard, the Secret Service, the Transportation Security Administration and the Federal Emergency Management Agency. Its 240,000 employees are scattered among 50 office locations throughout the D.C. area. Only the Coast Guard, which began moving into its new headquarters in August, operates out of St. Elizabeths.
Meanwhile, the Partnership for Public Service last year ranked Homeland Security last on its list of the best places to work in the federal government, based on a survey of how employees feel about their respective departments.
"There's a lot of management issues at DHS, and they think they've found the magic bullet by putting everyone under one roof," said Leslie Paige, vice president at Citizen's Against Government Waste. "A new building isn't part of their mission. They've got a lot of problems, a lot of other things that really require resources that are essential to keeping the homeland safe. Are we going to deprive these needs so we can build a new building, in the hopes of raising morale?"