Russia is paying a heavy price for its annexation of Crimea, with its financial markets crashing, economic growth falling, and foreign investors and citizens pulling money out of the country at a frenetic pace.
Though the economic pain has been more self-inflicted than the result of limited sanctions imposed by the U.S. and European Union, the sanctions have helped create panic that has prompted investors and businesses to pull $70 billion out of the country in the first quarter after having withdrawn $63 billion in all of 2013.
"The deteriorating geopolitical situation has already had a negative impact on Russia's economy," said John Piecuch of Standard & Poor's Corp., which last week warned that the outlook for Russia's debt and economy had darkened. S&P said growth in Russia this year will slow further from the anemic 1.3 percent rate posted last year.
---
SEE ALSO: Ukraine pulls out troops in Crimea as Group of Eight boots Russia
---
Some analysts say the Russian central bank's emergency efforts to stem the ruble's 10 percent nose dive against the U.S. dollar this year could push Russia into a recession. Rather than nurturing economic growth, the central bank has had to raise interest rates dramatically and sell $11 billion out of Russia's $500 billion war chest of reserves to defend the currency.
Russian Economy Minister Alexei Ulyukayev acknowledged the dire situation Monday by telling reporters that growth in the first quarter likely will clock in at "around zero." But he insisted that Russia will have to contend more with stagnation than recession this year.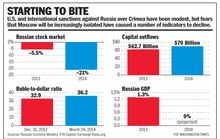 Relationships torpedoed
Beyond snuffing out growth and driving up interest rates and inflation, casualties of the Crimean takeover include hopes that Russia would pursue free market reforms to make its economy less corrupt, government-centered and dependent on the sale of oil, gas and other commodities, Mr. Piecuch said.
"Russia is not totally invincible and in some ways the damage is already done," with its economy suffering for the foreseeable future, said Lilit Gevorgyan, European economist for IHS Global Insight.
"The fear of interstate war in the past weeks made the investor community rethink their future plans with regards to Russia, which already had a troublesome profile with private investors," she said.
The stampede from the country and the threat of further sanctions from the West raise major questions about whether the extensive ties Russia cultivated with Western businesses in the past two decades were for naught.
"The lost future business opportunities is something that would be hard to quantify but expected to be felt by the Russian economy, especially if the standoff with the West continues for an extended period of time," Ms. Gevorgyan said. "It is not only the capital but also the Western know-how that Russia needs to overhaul its economy, and these are unlikely to come in when diplomatic relations are frozen."
Stiffer sanctions?
The light-handed sanctions imposed by the U.S. and EU last week, targeted at government officials and business people close to President Vladimir Putin, will cause little immediate economic pain beyond Russia's weak markets, nor will they prompt Mr. Putin to reverse his takeover of Crimea, she said.
The U.S. and EU are considering more severe sanctions targeting Russian companies, but European nations — which have far more extensive trade ties with Russia than the U.S. — are wary unless Moscow attempts further aggressions in Ukraine or elsewhere in Eastern Europe.
Ms. Gevorgyan said sanctions would have to be onerous to have any significant effect and in the end are unlikely to work.