North Korea has issued guidelines requiring all men to wear their hair just like their supreme leader, Kim Jong-un, a South Korean news outlet has reported.
The state-ordered "fashion guidelines" were introduced in the capital Pyongyang about two weeks ago and are now being rolled out across the country, the Korea Times reported.
"Our leader's haircut is very particular, if you will," one source told Radio Free Asia, BBC reported. "It doesn't always go with everyone since everyone has different face and head shapes."
A North Korean now living in China told the station that the look is unpopular where he lives because it resembles that of Chinese smugglers.
"Until the mid-2000s, we called it the 'Chinese smuggler haircut,'" the source said.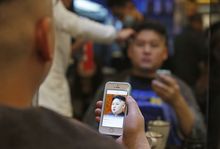 In a country where almost nothing seems normal, state-sanctioned haircuts aren't that unusual either when the primary goal is to stomp out Western influence.
Last year, North Korean women were told to do their part in representing the state by choosing from one of eighteen hairdos the Kim regime had officially sanctioned. Men only had ten hairstyles to choose from at the time.
Back in 2005, North Korean state TV launched a five part series entitled "Let us trim our hair in accordance with Socialist lifestyle."
The show sent out teams with hidden cameras to catch "rebel" citizens who were breaking the North Korean hairstyle code.