GOODYEAR, Ariz. — The night of the day he dreamt about for years, Bryan Price lay awake in his bed, a realization of his future beginning to sink in.
Price had a nondescript career as a minor league pitcher in the 1980s and began his coaching career with the Seattle Mariners' rookie league team in 1989. By 2001, he had worked his way up to the big leagues as the Mariners' pitching coach, and he was hired by then-manager Dusty Baker and the Cincinnati Reds prior to the 2010 season.
In October, after Baker was fired following six seasons with the Reds, general manager Walt Jocketty gauged Price's interest in interviewing to replace him. Price got the job four days later, and fears and doubts plagued him throughout that first night.
---
SEE ALSO: BASEBALL 2014: Matt Williams focused on details as he takes Nats helm
---
"I was going, 'Boy, I just got the job. What does that mean?'" Price said. "That means I have to make the decisions that could fundamentally affect the outcome of the ballgame, and I can't be a weak link. I've got to be ready for this. I can't be the guy that disappoints."
Living with the outcome of such decisions, many of which are made under significant pressure, is a fundamental part of being a manager. When Price reflected on his hiring this month, he knew he would have just over a month to grow into one of the most crucial, and often misunderstood, roles in baseball.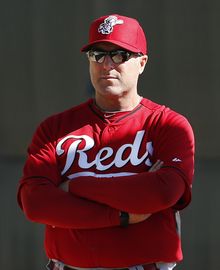 Of the six managers hired this past offseason, Price, the Washington Nationals' Matt Williams and the Detroit Tigers' Brad Ausmus had not previously managed a game in the majors or minors.
---
SEE ALSO: BASEBALL 2014: LOVERRO: Behold, MLB's four kings
---
No longer is managing about sitting in a cinder block office, filling out a lineup card and substituting players in late innings. New-age thinking has begun spreading down from the front office, where many teams have begun to accept and incorporate advanced analytics into their day-to-day thinking.
For some teams, it's also a way to infuse fresh ideas into what can be a stale clubhouse. It makes little sense for a franchise looking to break from a period of stagnation — years that likely led to a managerial change in the first place — to bring in a manager who was unsuccessful in previous stints.
"We feel that we've got the right man at the right time here in Washington, D.C.," Nationals general manager Mike Rizzo said when he introduced Williams on Nov. 1. "He's a man that brings passion and an intensity to the game, but also brings a communication style of eloquence and intelligence, so we think that he's got the full package."
A changing dynamic
Walt Weiss had spent 14 years in the major leagues and seven years as a special assistant with the Colorado Rockies before he left organized baseball following the 2008 season. He wanted to spend more time with his family, and when his son Brody's high school team needed a coach in 2012, Weiss stepped in.
That experience was all Weiss had in a managerial role before he was hired by the Rockies prior to last season. In fact, the Rockies' search was well outside the norm; in addition to Weiss, they interviewed Williams and Jason Giambi, who played for the team the previous three seasons and has not yet retired.
"I'm not going to say there was never a doubt [that I could do it], because I had never done it before, so I think that would be false confidence or false bravado," Weiss said. "But I don't know if there was ever a point where I said, 'Yeah, I've got this,' and I don't know if there ever will be, because there are a variety of challenges, almost daily, that you have to deal with."
Hiring a first-time manager isn't a particularly new trend. Of the 30 managers in place for this season, 17 are in their first gig — a number that has held approximately steady over the previous decade. In fact, of the 36 managers who have won a World Series in the past 50 years, 14 of them accomplished the feat in their first stint as a big-league manager.
The turnover in the profession is great. Only seven managers are entering at least their fifth season with a team, and 12 — including Lloyd McClendon, hired by the Seattle Mariners in November — are on at least their second managerial stint. Jim Riggleman was with his fourth team when he quit managing the Nationals in 2011; Billy Martin managed five teams over nine stints, including five with the New York Yankees, until he died in a car accident in 1989.