The deadly mudslide in Washington state offers a grim perspective on an issue bedeviling the West: homebuyers who move beyond the suburbs and build their houses up against, and even into, the wilderness.
At least 25 people have been found dead in the town of Oso after a hillside collapsed March 22 under the weight of this season's heavier than normal rainfall. Sixteen of the dead had been identified as of Thursday afternoon.
Search and rescue teams slogged through the mud and rain Thursday in search of the 90 people still reported missing. The death toll is expected to "increase substantially" as rescue efforts continue, said Snohomish County Fire Chief Travis Hots.
---
PHOTOS: In wild West, growing battle of man vs. nature
---
"If we just find one more person that's alive, to me, that's worth it," Chief Hots said in a press conference on KOMO-TV.
Oso is typical in some respects of the kind of community that has become increasingly popular among homebuyers. Located about 55 miles from Seattle in the outer suburbs, it's close enough to reach the city but remote enough to feel like the country.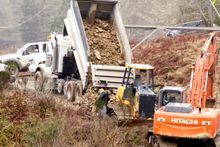 Chris Mehl, policy director of Headwaters Economics in Bozeman, Mont., said communities like Oso are popular among baby boomers, who are retiring at a clip of about 8,000 per day and often seek retirement in settings that are remote yet easily accessible to cities.
"It's an outer suburb or satellite community of the larger city, and so it's both stand-alone in the sense that it has some businesses but it's also a route along the way," Mr. Mehl said. "It's either a second-home opportunity if you lie in the city and you want to get away or it's a place you could live and telecommute in, or just face up to the drive, as many people do every day."
Problems typically arise with communities built near the forest that become fuel for wildfires, but homes built off the beaten path also are using land that can be vulnerable to floods and avalanches.
Three weeks ago, a woman was killed and two homes were destroyed near Missoula by an avalanche triggered by a snowboarder.
In other regions of the country that are prone to natural disasters, homeowners generally are better prepared, or at least informed, about the risks. Those who choose idyllic settings such as the cliffs of Malibu, Calif., or Florida or North Carolina beaches, usually are aware that they could face hurricanes or floods.
In the West, people often don't realize the dangers because they are moving to sparsely populated areas with limited government infrastructure.
Wildfires in Colorado set a record for structures destroyed in 2012, a mark that stood for just one year. In 2013, the Black Forest Fire topped the record after wiping out a housing development on the outskirts of Colorado Springs.
"Because the area either hasn't been settled before or because it has more of a Western outlook, you will see some of these places that aren't as prepared about the danger," said Mr. Mehl. "It's not that they're any less competent; it's just that it's new. This isn't a Pittsburgh where they've been building in the hillsides for hundreds of years."
Still, Darrington and Oso residents say that although the devastation was greater than anything they had experienced, they accepted the risks of untapped nature for the beauties of untapped nature.
"It's just beautiful. You wake up in the morning and you can hear the eagles," Jason Henry told The Associated Press. His wife, Vanessa, said the small-town, tucked-away feel made everyone "like a big family here. A lot of outsiders don't understand that."