SURPRISE, Ariz. — A bat and a glove weren't too far away, and all Russell Wilson wanted was to hear was Texas Rangers manager Ron Washington telling him to grab one and get ready.
"How much did I want to play an inning?" Wilson asked, smiling. "How much did I want to play the whole game?!"
Wilson, who helped the Seattle Seahawks win Super Bowl XLVIII just under a month ago, turned up at Surprise Stadium on Monday, donning his No. 3 in a few shades lighter than the familiar navy blue.
The Rangers acquired the rights to Wilson, an accomplished high school and college baseball player, from the Colorado Rockies in December in the minor league portion of the Rule 5 draft. And while he didn't play Monday in their 6-5 loss to the Cleveland Indians, merely having him on hand provided a valuable teaching tool to the team.
"You can take something from his attitude," said Washington. "You can take something from his preparation. I mean, that guy around you, he draws attention because he's such a personable guy, a great character guy. He's well-prepared in what he's doing, and [at] 25 years old? He's special."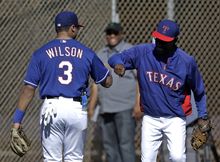 The quarterback-turned-second baseman arrived earlier than expected, spending Sunday night at a private function for Rangers executives and sponsors before showing up early Monday for positional drills. Wearing a blue warm-up jacket and white pants, Wilson joined second baseman Jurickson Profar, who has been limited because of inflammation in his right shoulder, and some of the Rangers' minor leaguers in fielding ground balls.
After a brief chat with first baseman Prince Fielder, Wilson then walked to an adjacent field, where excitement built among the photographers and select few fans who were on hand as it appeared he'd join teammates for batting practice. Instead, he spent the better part of 30 minutes watching relievers Alexi Ogando and Jose Contreras throw and chatting with general manager Jon Daniels before heading back inside the Rangers' clubhouse.
"You want him to come out and be one of the guys," said catcher J.P. Arencibia. "For me, any sports people who understand what we go through, and they do it in a different genre, is exciting, especially when he just won the Super Bowl."
Wilson was drafted by the Rockies before his junior year at N.C. State, and he spent parts of the 2010 and 2011 seasons playing in the lower levels of their minor league system. His decision to transfer to Wisconsin for his senior year was influenced partly by his coaches at N.C. State, where he played baseball, preferring he focus only on football.
He eventually made that decision, informing the Rockies before spring training in 2012 that he would not report because of a desire to pursue a career in the NFL. That April, the Seahawks drafted him in the third round, and he became the team's starting quarterback just before the season began.
"I mean, the offseason was when I wanted to rest and relax," said Rangers pitcher Ben Rowen, a righthander who remembered pitching against Wilson in college at Virginia Tech. "I couldn't imagine picking up another sport and then trying to play it at a high level."
The Rangers knew Wilson still harbored a hope of playing professional baseball, and they paid $12,000 — the cost of Wilson's contract — to control his rights with the hope that at the very least, he'd speak to some of the team's younger players at some point during spring training.
"I can't imagine how much he's got on his plate right now, having just won the Super Bowl," said Rangers pitcher Daniel Bard, who spent the last five seasons with the Boston Red Sox. "That's impressive. I mean, I haven't seen anything that suggests [he can't handle it]. He's impressed me more off the field than even on the field. He seems to be a genuine guy."
Fans showed up in droves to see Wilson, with plenty at the game wearing his jersey or, at the very least, Seahawks apparel. The Rangers put T-shirts with Wilson's name and number on sale at the stadium on Sunday to mark the occasion.
The closest Wilson got to playing baseball on Monday was before the game, when he trotted out from the Rangers' dugout to hand the umpire his team's lineup card.