Voters in the District will take to the polls Tuesday to choose a Democratic nominee for mayor, a process that largely turns on whether residents believe they are better off with an incumbent shrouded in scandal or that the city needs a change in leadership.
The primary election race, much like the first term of Mayor Vincent C. Gray, has been all but overshadowed by an ongoing federal investigation into charges involving a more than $650,000 off-the-books campaign that aided the mayor's 2010 bid.
But with a resilient local economy that weathered a national economic recession, improvements in public school test scores and continuing declines in crime, many Democratic voters appeared ready to look past the scandal and grudgingly offer Mr. Gray a second term in office.
---
PHOTOS: D.C. mayoral candidate debate
---
The race was upended this month, though, when federal prosecutors struck a deal with D.C. businessman Jeffrey E. Thompson, who pleaded guilty to funding the illicit scheme on Mr. Gray's behalf. Government attorneys in open court implicated Mr. Gray, referencing the mayor by name and saying he was complicit in the illegal activity.
Mr. Gray, who has accused Thompson of lying about his involvement, has maintained his innocence amid polls that show the renewed attention on the scandal opened a window for his challengers to capitalize on his vulnerability.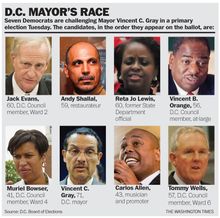 Questions about Mr. Gray's integrity were enough to coax seven other Democrats to challenge him for his job. Most promised a mix of clean slates and fresh starts for a city in which three council members in the past four years pleaded guilty to corruption charges unrelated to the investigation into the mayor.
Top contender
Polls suggest Mr. Gray has the most to fear from D.C. Council member Muriel Bowser — the hand-picked successor of the man Mr. Gray pushed out of office in 2010.
Ms. Bowser has represented Ward 4 on the D.C. Council since 2007, after council member Adrian M. Fenty was elected mayor in 2006.
She once trailed the incumbent by double digits, but surveys conducted since the Thompson guilty plea put Ms. Bowser and Mr. Gray in a dead heat.
Campaign finance reports filed eight days ahead of the election showed Ms. Bowser had outraised Mr. Gray during the cycle, with $1.3 million in donations compared with his $1.2 million. Although she entered the race eight months before the mayor, the numbers are notable.
During a rigorous schedule of often contentious debates — candidates met at forums across the city as many as four times per week — Mr. Gray's attacks on Ms. Bowser have focused on her lack of executive experience.
"This city is phenomenally further along than it was when we came into office," Mr. Gray said during one forum. "I think it's because I brought experience to this effort. I've managed a lot of people."
Ms. Bowser, a former Advisory Neighborhood Commission member and fifth-generation Washingtonian who worked for the Montgomery County government prior to election, helped oversee revitalization and community relations in downtown Silver Spring.
"I've been in local government for 17 years, on all sides — from the community side, from the legislative side and on the executive side," she said at a debate defending her experience.