Capitals forward Martin Erat, unhappy with his ice time, asked for a trade months ago. Less than 24 hours before the NHL's trade deadline, he finally got his wish.
Erat capped a whirlwind month that included the birth of his daughter and playing for the Czech Republic at the Winter Olympics in Sochi, with a long-awaited move. Washington traded him to the Phoenix Coyotes on Tuesday evening for minor-league forward Chris Brown, veteran defenseman Rostislav Klesla and a fourth-round draft pick in 2015.
"Yeah, I think it's all about how the coaching staff trusts you, you know," Erat told reporters in Phoenix on a conference call Tuesday night. "And if you get time on the ice, I get my confidence. I feel pretty confident I'll get my scoring touch back."
---
SEE ALSO: With Dustin Penner aboard and Martin Erat gone, Caps await further moves at trade deadline
---
Both Klesla and Brown will report to AHL Hershey. A pro-rated portion of Klesla's $2.95 million salary (or at least a portion of $2.05 million of that salary, according to the new CBA) will still count against Washington's salary cap. He is, however, an unrestricted free agent at the end of the season. Erat still has one more year left on his contract at a steep $4.5 million. He has just one goal this season, an empty-netter in the final game before the Olympic break on Feb. 8, with 23 assists. Erat was a healthy scratch nine times.
The financial aspect is the biggest benefit for the Caps, who immediately used the freed cap space to activate defenseman Jack Hillen from the long-term injured reserve list (LTIR). Hillen broke his leg in an Oct. 3 game against Calgary. He is expected to make his return Wednesday night against the Philadelphia Flyers.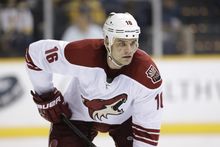 More moves could still be coming. While Klesla does not take up a roster spot while in the AHL, most of his money is still on the books. That means Washington has about $1,861,974 left to recall players if forward Brooks Laich is unable to play against the Flyers.
Following a day off Monday, he did not participate in a practice at Kettler Iceplex on Tuesday. Forward Mikhail Grabovski (left ankle) has not been seen on the ice since leaving last Thursday's win at Florida and is not expected to play. The Caps are currently short two forwards.
Brown, 23, has appeared in 11 NHL games with Phoenix. He was the organization's second-round pick in 2009 after playing three years at the University of Michigan. As a rookie in the AHL last year with Portland he scored 29 goals. Brown has 14 this season at that level.
Phoenix buried Klesla, 31, in the minors most of this season and twice he cleared waivers, meaning no other team in the NHL wanted his services at that price. He is a 14-year NHL veteran and was the fourth pick by Columbus in the first round of the 2000 NHL draft.
Washington also sent forward John Mitchell to the Coyotes in the deal. Erat, 32, had just one goal – an empty-netter – and 23 assists for the Caps this season. He was acquired at the trade deadline last April 3 from Nashville along with minor-league forward Michael Latta for top prospect Filip Forsberg, a 2012 first-round pick dubbed the sport's fourth-best prospect this month by The Hockey News.
Erat had asked for a trade in November after experiencing limited ice time under coach Adam Oates. He reiterated that request this month even as his role increased.