When he was a young player just starting his career, Capitals coach Adam Oates heard rumors as the NHL's trade deadline approached that he could be dealt. As he prepared for a game that night, the thought ruined his pregame nap.
A few years later, Oates faced the same scenario. By then, he knew it was just part of the business.
"I slept like a baby," Oates remembered.
---
SEE ALSO: Caps trade winger Martin Erat to Phoenix
---
His players face that same uncertainty on Wednesday. The NHL has a 3 p.m. deadline for teams to make deals.
But is there anything left for general manager George McPhee to do? Washington got a jump on the deadline by making a pair of deals on Tuesday — acquiring left wing Dustin Penner from Anaheim and finally moving disgruntled winger Martin Erat to Phoenix.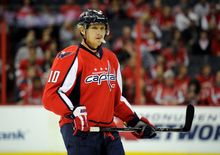 The price for Penner was only a fourth-round pick that was the Ducks' in the first place thanks to a September trade with the Caps for center Mathieu Perreault.
---
SEE ALSO: Hurdles to clear before Evgeny Kuznetsov joins Caps
---
"If a guy is getting traded for the first time or it's a surprise or if it's a young guy — yeah," Oates said when asked if the deadline can be a distraction for players.
That might qualify in Penner's case. A left wing with 13 goals and 19 assists in 2013-14, he has spent six of his nine NHL seasons playing in the Los Angeles area with the Ducks or Kings and helped both franchises win a Stanley Cup.
Penner tweeted that he was told of the deal shortly after stepping onto the ice in Anaheim for practice around 10:30 a.m. Pacific Time. The shock may have accounted for a terse chat with reporters from the airport as Penner prepared to fly to Philadelphia, where the Washington plays the Flyers on Wednesday night.
"I hope to be in the lineup tomorrow," Penner said. "If not, I rushed for nothing."
Erat's $4.5 million salary-cap hit was a poison pill for many teams. So McPhee, in return for Erat and minor-league forward John Mitchell, had to take back defenseman Rostislav Klesla, 31, and minor-league forward Chris Brown from the Coyotes. The Caps also received a fourth-round draft pick in 2015.
Klesla is a 14-year NHL veteran who was buried in the minors most of this season by Phoenix. He makes $2.975 million, but because he has been in the minors his cap hit is $2.05 million. The pro-rated portion of that money will count against Washington's salary cap, but he is also an unrestricted free agent at the end of the season.
Erat had another year left on his contract. Unhappy with his ice time and role under Oates, he had requested a trade in November and reiterated that position last week even as his ice time increased.
The trade capped a whirlwind month for Erat that included the birth of his daughter and playing for the Czech Republic at the Winter Olympics in Sochi.
The Caps immediately used the freed cap space to activate defenseman Jack Hillen from the long-term injured reserve list. Hillen broke his leg in an Oct. 3 game against Calgary. He is expected to make his return Wednesday night against the Philadelphia Flyers.