PEORIA, Ariz. — Sometimes, when it becomes too much to bear, Danny Hultzen will drive an hour north to Lake Pleasant, cast a fly into the water and disappear for a while.
Baseball doesn't consume the young left-hander, but it could have on plenty of occasions. When Hultzen stands on the rocky Arizona shore, the vast reservoir spread before him, those concerns are forgotten, his cares limited to the next tug on the line.
It's a waiting game. And as Hultzen has been reminded over the last five months by the thin pink scar running down the front of his left shoulder, nothing can accelerate time.
"Some people haven't come back from it," Hultzen said. "I know that. But I don't let myself think about that."
People affiliated with the Seattle Mariners are quick to praise the Bethesda, Md., native's mental acuity. He's deft at reading hitters and decisively picks his spots and pitches. It's a product of his thorough preparation, his confidence and his easy-going nature, they say.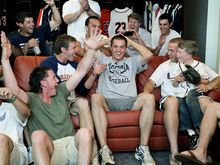 It's also helping him through the most difficult stretch of his short career. The No. 2 overall pick out of Virginia in 2011, Hultzen, 24, was hurtling toward making his major-league debut last season when he began experiencing discomfort in his throwing shoulder.
Examinations were inconclusive until September, when an arthrogram, a procedure in which dye is injected into an affected area, revealed Hultzen had a tear in his rotator cuff. The labrum and capsule were also damaged; surgery would require between 12 to 16 months' rehabilitation, with no guarantee of a full recovery.
Hultzen wanted answers for months. The diagnosis, while grim, was comforting.
"I've only had probably two [such injuries] in 21 years," said Rick Waits, the Mariners' pitching coach. "I know Orel Hershiser had a similar injury, and he came back strong. It's rare. We've seen guys come back, and we've seen some guys don't come back. And what I mean by coming back is that most guys come back, but not to their full potential."
Hultzen went a combined 23-4 with a 2.06 ERA and a 6-to-1 strikeout-to-walk ratio during his sophomore and junior seasons at Virginia. He was named the ACC pitcher of the year after each season, when his four-seam fastball was clocked in the mid-90s and he had life in his slider and changeup.
Despite their need for a corner infielder, the Mariners drafted him believing he could be a star, and they paid him like one: A five-year major-league contract that could have been worth as much as $10.6 million, with a $6.35 million signing bonus.
The Mariners assigned Hultzen to Double-A Jackson out of spring training in 2012, and he was promoted to Triple-A Tacoma by June. He returned to Tacoma at the start of last season, but started only four games before being shut down. Two attempts at a return — two games in June, one game in September — only intensified the pain.
On Oct. 1, Dr. James Andrews operated on Hultzen's shoulder in Pensacola, Fla. It was clear, almost immediately, that Hultzen would not pitch in 2014.
"I think Danny would have been in our rotation at some point in time last summer," said Mariners general manager Jack Zduriencik. "He was on that track. He was the No. 2 pick in the country, a lot of expectations. He's a great, great young man, a real hard worker, all the arrows pointing in the right direction. You know, it's unfortunate."
After returning home to the Washington area for the holidays, Hultzen reported to the Mariners' spring training complex in early January for the next phase of his rehabilitation. Having regained a full range of motion in his left shoulder, he has begun a long-toss program that has him throwing from 60 feet.