Thousands of conservative activists descend Thursday on the nation's capital for three days of discussions, panels, debates and speeches, and a once-unthinkable slate of questions on the agenda.
In an era of governance by presidential fiat, is Congress still relevant and do lawmakers have any real will to tame spending?
Those are the explicit topics of a Thursday morning panel at the Conservative Political Action Conference.
Taking the main stage in the Potomac Ballroom at the Gaylord National Resort and Convention Center are panelists with reputations of speaking truth to power: former American Conservative Union/CPAC Chairman David A. Keene, Sen. Tom Coburn of Oklahoma and conservative commentator George Will.
Those questions also will be addressed in speeches by possible 2016 Republican presidential candidates, 11 of whom will hold audience interaction sessions Thursday and Friday.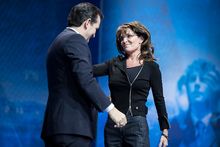 The more intimate breakout sessions are designed to give members of the audience a chance to direct questions to fellow activists, members of Congress, policy analysts and the national chairman of the Republican Party.
The main stage also will be open for attendees to see, hear and collect autographs from possible White House contenders such as New Jersey Gov. Chris Christie, Sen. Ted Cruz of Texas, surgeon turned political commentator Ben Carson, Sen. Rand Paul of Kentucky, Sen. Marco Rubio of Florida, Texas Gov. Rick Perry, former Arkansas Gov. Mike Huckabee, Louisiana Gov. Bobby Jindal, Rep. Paul Ryan of Wisconsin, and former Sen. Rick Santorum of Pennsylvania.
Because of insurmountable scheduling conflicts, the two no-shows among the early 2016 field will be Wisconsin Gov. Scott Walker, who dazzled the audience last year, and New Mexico Gov. Susannah Martinez, the Hispanic-American who drew rave reviews at the Republican National Convention in Tampa, Fla., in 2012. Perennial favorite Sarah Palin, who, like the others, is on The Washington Times' CPAC presidential preference straw poll, will be the closing speaker Saturday.
CPAC has undergone a nearly total makeover.
It has rebranded the Exhibit Hall traditionally used by conservative interest groups and vendors to hand out literature, recruit members and show wares. The hall is now the Hub — as in the hub of activity — with food, live music, book signings, soapbox speeches and meet-and-greets with governors, senators and House members.
CPACers will find 1,000 chairs on which to rest their wearies, to munch on box lunches — free for premium-ticket holders who pay $1,600 apiece, compared with the $300 regular registration and $60 student access price — and engage in geopolitical and Hayek yakety-yak.
Featured in the Hub will be elaborate booths set up by "presenting sponsors," including the Tea Party Patriots, Town Hall, One America News Network, the National Rifle Association and The Washington Times. The Exhibit Hall in previous years housed smaller, grass-roots organizations.
In other locations at the convention center, there will be a concert and other entertainment. "Washington Times Idol" — modeled after the TV show "American Idol" — will give aspiring journalists a chance to interview newsmakers and compete for a fully paid internship at The Times.
CPAC has to raise at least $2 million just to cover costs. The changes reflect the need to raise more money from richer sources for the good of the conservative movement and, as befits the world according to Adam Smith, for their own visibility and to gain access to the political glitterati.
Those leaders, along with thousands of activists from across the country, are what make CPAC the biggest annual gathering of philosophical conservatives in the United States — and, organizers say, probably the world.