A former linebacker for Minnesota State University-Mankato is "fighting for his life" after allegedly being attacked by Rutgers quarterback Philip Nelson, who was arrested Sunday morning.
According to anESPN report, 24-year-old Isaac Kolstad is in critical condition after sustaining severe head injuries.
Nelson, 20, was arrested on suspicion of third-degree assault in connection with an attack that occurred in the Mankato downtown entertainment district about 2 a.m.
Police are looking for a second suspect.
Nelson transferred to Rutgers after starting 16 games in two seasons at Minnesota.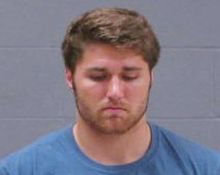 Kolstad spent two seasons at North Dakota State in 2008 and 2009 and transferred to Minnesota State for his junior and senior years, ESPN reported. He has a 3-year-old daughter and his wife is reportedly pregnant.
"He is currently in critical condition and fighting for his life," his father Blaine Kolstad wrote in a blog post online. "He is young and strong, but the battle he has in front of him is enormous. … We do know that his brain did sustain permanent damage. We do not yet know to what extent and won't for many days. He is very sick. Please pray for Isaac and all of those involved."
Students held a candlelight vigil for the victim at Minnesota State on Sunday night.
Rutgers said in a statement that it is in the process of gathering more information about the assault.
"It's an ongoing investigation, and as more information becomes available, we'll be releasing it," Mankato city spokeswoman Shelly Schulz said Sunday, ESPN reported.