The nation's battered housing market, one of the last sectors to join the recovery, is faltering again in the wake of rising interest rates, raising fears that it once again may drag down the rest of the economy.
New and existing home sales in March were down by 13.5 percent from their peak nearly a year ago, cooling the rise in housing prices that, during a brief spurt last year, grew by more than 12 percent on average.
Economists say the nearly 1 percentage point jump in 30-year mortgage rates spurred by Federal Reserve policy over the past year has combined with fast-rising home prices to make housing less affordable for the average consumer, who continues to be pinched by limited wage gains and impaired access to credit. Moreover, first-time homebuyers, a group that plays a pivotal role in propelling housing growth, have been in short supply because of high unemployment rates and bloated student loan debts among the millennial generation.
"The substantial increase in the cost of becoming a homeowner is hurting housing in a non-trivial way," said Tom Porcelli, chief U.S. economist at RBC Capital Markets, who estimates that the cost of owning a home has gone up by 22 percent in the past year.
Federal Reserve Chair Janet Yellen last week cited the threat of a relapse in housing as a principal concern of the central bank. After the Fed announced a year ago that it would slowly withdraw stimulus from the economy, housing sales dropped 10 percent within months.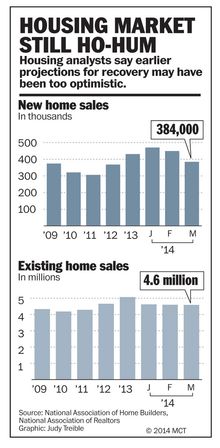 Hopes that housing would regain momentum this year amid a broader economic recovery have been disappointed. Reports show the housing slump continued, and even deepened, during the normally busy spring.
A Fed survey last week showed that banks have pulled back mortgage lending in recent months to a level not seen since 2010, further raising hurdles for homebuyers.
Banks, stung by huge losses on defaults during the housing and credit crisis, have been targeting buyers with credit scores in the near-perfect range of 750 to 800 and have been spurning altogether about 25 percent of aspiring homebuyers with credit scores below 600, analysts say. As a result, mortgage lending during the first quarter was at its lowest level in 14 years.
With demand for housing loans "painfully weak," Mr. Porcelli said, he expects housing to contribute 0.1 percent or less to economic growth this year, after providing double-digit gains in 2012 and 2013.
Middle class left behind
With middle-income homebuyers getting short shrift, James J. Puplava, chief investment strategist at PFS Group, said the market is increasingly dominated by wealthy homebuyers and investors who have the money and strong credit ratings needed in today's market.
Unlike middle-class wage earners, who have barely been able to keep up with inflation because of stagnated earnings since 2008, wealthy homeowners and investors are flush with income and cash thanks to superlative gains on their holdings in the stock market. Purchases of homes costing $1 million or more have surged by 7.8 percent in the year ending in March, according to the National Association of Realtors, while home purchases of $250,000 or less, which represent almost two-thirds of the market, plunged by 12 percent.
"The housing recovery is mirroring America's wealth divide," Mr. Puplava said. "Million-dollar homes in the U.S. are selling at double their historical average while middle-class property demand stumbles."
Middle-class buyers also are competing with well-heeled investors for lower-priced homes in many markets, as investors snap up properties they can fix up and rent at profit.
As first-time homebuyers and middle-class families scramble to secure loans to buy lower-end properties, investors often do end runs around them by paying in cash.