As the Washington Nationals trickled into the clubhouse Sunday morning, the news was going out: Gio Gonzalez had been placed on the 15-day disabled list with left shoulder inflammation.
A little over a quarter of the way through the season and another piece of the 2014 foundation was chipped, dinged, headed for repair.
But there was no team meeting, no rah-rah act from manager Matt Williams to rally the remaining troops. The way this season has gone for the Nationals, hardly anyone in the clubhouse batted an eye. The patchwork group on the lineup card suited up, took the field, and beat the New York Mets 6-3. Four of those runs were driven home by Wilson Ramos, who was hurt on Opening Day and playing in only his ninth game of the season.
---
SEE ALSO: Gio Gonzalez to DL with shoulder problem
---
"We don't talk about the injuries," said general manager Mike Rizzo. "It's part of baseball. That's why you build depth in the organization. We're not going to alibi, we're not going to use it as an excuse, we haven't mentioned it.
"We've got our 25 [players on the roster], this is our 25, and we're going to go to battle with those guys. It's time for guys to pick up the slack and play like they're supposed to play."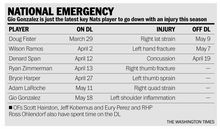 Injuries do happen, of course — to every team. And it's not like this is an uncommon occurrence in Washington.
Two years ago the Nationals didn't have Michael Morse for the first two months, played without Drew Storen until after the All-Star break, lost Ramos to a torn ACL in mid-May, saw Ryan Zimmerman and Ian Desmond spend time on the DL and lost Jayson Werth for more than two months midseason.
There were two key factors in being able to weather that onslaught and still rack up 98 wins, though: The Nationals got their major injuries out of the way early, clearing the way for the stretch run, and their starting rotation made it through untouched.
The core group of five starters in 2012 — Gonzalez, Zimmermann, Stephen Strasburg, Edwin Jackson and Ross Detwiler — made 150 of a possible 162 starts. The equivalent group in 2014 has made 37 of 43 starts, with Taylor Jordan and Blake Treinen filling in while Doug Fister worked his way back from a spring training injury. One of them will be back to replace Gonzalez, who doesn't figure to miss much time after an MRI arthrogram taken Sunday revealed no structural damage.
Still, that means there have been only eight days this season in which the Nationals' expected rotation has been active, and it'll be at least a couple of weeks before that number grows any further. Washington absorbed Fister's absence well, but continually filling rotation holes in-season is not generally a winning formula.
"It's not ideal by any stretch," Williams said, but dwelling on something like that isn't exactly the manager's style.
"You can't change anything," he said. "It's an opportunity for guys to step to the plate, no pun intended, and get it done. That's how we feel about it."
So it's left to those who are healthy to keep the Nationals treading water in what has been a mediocre NL East — a task Washington has managed just fine in the absence of Fister, Ramos, Zimmerman, Bryce Harper and Adam LaRoche. After both teams won Sunday, the Nationals remained a half-game behind the first-place Atlanta Braves in the division.
The driving force in Washington's effort to keep pace Sunday was Ramos, who started behind the plate for the third consecutive day after asking Williams to do so and delivered a two-run double in the third inning and a two-run single in the fifth off Mets starter Zack Wheeler.
The 26-year-old catcher has withstood more adversity than most in recent years, noting Sunday afternoon that he's been to the DL three seasons in a row. From afar, he urged Gonzalez to keep his head up, keep working, stay positive. It's a message that won't be a tough sell, based on the vibe in the Nationals Park clubhouse these days.