The Obamacare rollout last fall was a well-documented disaster in many places, leading states and the federal government to drop their contractors or withhold payment for their work. But in a noticeable pattern, state-run health exchanges managed by Deloitte Consulting emerged relatively unscathed from the experience, and more are turning to the company for help.
Four states — Connecticut, Kentucky, Rhode Island and Washington State — relied on the company and enjoyed a relatively smooth rollout, while Maryland, Nevada, Minnesota and Oregon have enlisted Deloitte's services for an array of tasks.
It is all part of a technical and political shuffle unfolding between the close of the Obamacare's first sign-up period last month and the law's second go-round in November.
---
SEE ALSO: Democrats dogged by Obamacare: Voters choose GOP, 41 to 34 percent
---
"I think that people are going to go to the technologies that have proven themselves to work as opposed to perhaps trying to save ones that were failures," Connecticut Gov. Dannel P. Malloy, a Democrat, told the Center for American Progress last week.
Two of Deloitte's top health-reform officials — Pat Howard and Wade Horn — discussed their keys to success in a wide-ranging interview with The Washington Times.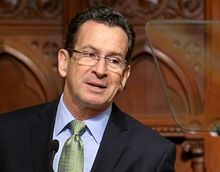 The Deloitte executives said the company built on a decades-long track record of building self-service portals, particularly in field of Medicaid eligibility, allowed them walk into states with a game plan instead of a blank notebook.
---
SEE ALSO: Ky. voters are more comfortable with 'Obamacare' when you call it 'kynect'
---
"We weren't just taking guesses about what might be helpful and what might work or might not work," said Mr. Horn, a director in Deloitte Consulting's public sector practice.
Managing expectations in the program's rollout was also key.
The first open enrollment season arrived nearly four years after the law's passage, but the implementation window was much shorter. States had until after the 2012 presidential election to decide whether to set up their own exchange, and the bidding process for IT vendors ate up time as well.
"Most states were looking at a year, year and a half, to implement this," said Mr. Howard, principal in Deloitte Consulting's state health care practice. "So they had to be smart about what they put into the system in the first release, and what would go into subsequent releases."
States such as Kentucky, the only state in the South to both expand Medicaid and set up its own Obamacare exchanges, earned kudos by keeping things simple for its widely praised "kynect" website.
Gov. Steve Beshear, a Democrat, told The Washington Times in January the success of the state's exchange was the result of extensive testing and a clean website design that forsook bells and whistles in favor of convenience.
In the runup to launch, Deloitte used a system of "buckets" for its exchanges. One bucket was for must-haves — the things necessary for a functioning, state-run marketplaces on Oct. 1 of last year. The second was for things "that we would like to do, the states wanted to do, but you didn't have enough time to get it done in the first open enrollment period," Mr. Howard said.
In the future, Deloitte and other vendors may look to live-chat functions and systems that link people with certain health conditions to the plans that, historically, have offered the best coverage for their needs.
Also critical was the partnership between the state and the vendor.