STAFFORD, Va. — Some people recall memories with images, others through stories. Frank Matthews remembers through music.
Seventy years after Mr. Matthews set down boots in Iwo Jima, he can remember the emotions of fighting and camaraderie, memorialized in musical compositions he began writing as an 18-year-old Marine private.
For the first time Sunday, others will have the opportunity to take a step back in time and into his memories, when two of his pieces are performed by a professional band at the National Museum of the Marine Corps.
---
PHOTOS: WWII Marine from battle of Iwo Jima tells war stories with music
---
"This was a way I recorded what I felt, what I saw," said Mr. Matthews, 88. "It means my music is a little different. People are listening to what I was seeing, what I was feeling, whatever I was experiencing in the music, rather than in art or words."
Mr. Matthews' music will be played by the Band of America's Few, an orchestra of about 75 former Marines who volunteer their time to play several concerts each year.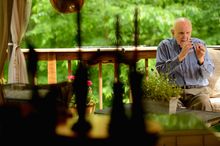 Trumpet player Tony McDonald, a former staff sergeant who lives in Woodbridge, said the band has been performing at the museum for several years. When he and the band learned of Mr. Matthews' work, coupled with the fact that he is a docent at the museum, they added his music to their repertoire.
---
---
"Our band is about helping, honoring Marines and those who've gone before us," Mr. McDonald said. "We're really honored to be able to play some of his pieces for him."
One of Mr. Matthews' pieces to be played by the Band of America's Few is a march written to honor the museum. The other, "Evening Tide," has a Glenn Miller big-band sound.
Sitting on the shady back porch of his daughter's house in Stafford, Mr. Matthews recalled the experience that inspired the piece.
A day before leaving the Pacific island of Iwo Jima, where he had spent more than a month fighting Japanese soldiers, Mr. Matthews was asked by the chaplains to play a portable organ for Sunday services.
"I have no clue how many times I played the national anthem that day," he said. "A lot of [veterans] got teared up hearing the national anthem that day on the plain."
Afterward, Mr. Matthews took some time to himself, watching his fellow Marines tend a makeshift graveyard for their fallen comrades.
"It looked liked they moved Arlington [National Cemetery] here overnight," he said. "I sat and watched things for a while. They were still burying people, and I decided I wanted to compose."
It would be decades before Mr. Matthews would revisit his compositions. Shortly after his wife, Margaret, died in 1999, he began fleshing out his work.
"I had hundreds of them," he said, his blue eyes shining. "Any time I heard a melody, it would bring me back in a very vivid way to what I was thinking at the time."