Who negotiated with God to try to save the sinful cities of Sodom and Gomorrah: Hagar, Ishmael, Abraham or Johnnie Cochran?
Is Molek the name of a biblical god or a bad guy in a James Bond movie?
If you answered Abraham and biblical God, chances are you would do OK in "The American Bible Challenge." If you picked Johnnie Cochran, perhaps you should watch a few more episodes of the Game Show Network's hit quiz show.
---
SEE ALSO: U.S. Air Force under fire for booting Bible from MIA-POW display
---
The show has started its third season thanks to a renewed interest in faith-based entertainment, programming officials and religion analysts say.
"There are so few things for families out there, for multiple generations to watch together," said Amy Introcaso-Davis, executive vice president for programming and development at GSN. "I also think it's the groundswell about religious beliefs in the country. I think that plays into it too. Anything successful on TV has to do with what the trends are at the time."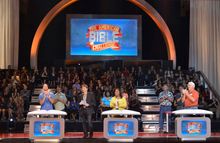 Hosted by stand-up comic Jeff Foxworthy, the Bible challenge features three teams of three players, each vying for a $20,000 cash prize that goes to a charitable cause.
---
SEE ALSO: UPDATE - Sacred mystery: Latest blockbuster ratings for 'The Bible' continue to confound Hollywood
---
Gospel music star Kirk Franklin serves as musical co-host, providing soaring spiritual songs with the help of his choir.
Viewers should notice a few new categories on the show this season, including "Curse You Autocorrect," in which contestants have to correct an "autocorrected" Bible verse, and "Nazareth Enquirer," which depicts major biblical events as the front pages of tabloid magazines.
The show premiered in August 2012, bringing in 1.7 million viewers and securing the honor of being the highest-rated original series in the network's 18-year history.
By comparison, zombie drama "The Walking Dead" brought in 5.35 million viewers when it premiered in 2010, and "Mad Men" premiered to 1.2 million viewers in 2007.
The History Channel's "The Bible" miniseries — the most-watched cable TV show of 2013 — delivered 100 million viewers.
"We've been mining the Bible for entertainment since the beginning of television and film for good reason," said Robert Thompson, director of the Bleier Center for Television and Popular Culture at Syracuse University's S.I. Newhouse School of Public Communications. "Noah's ark [plays like] a disaster movie. Sodom and Gomorrah get blown to smithereens. There is no question the Bible — Hebrew scriptures and the Old and New Testaments — has long been the stuff of American popular culture."
Mr. Thompson said the success of "The American Bible Challenge" lies in its safety from controversy.
"The great thing about a show like this [is] it's just asking questions about what's in the Bible," Mr. Thompson said. "You don't have to deal with religious legitimacy issues when you ask the question 'What was the name of Moses' wife?' Doing a game show that way — about information in the books [as] opposed to theological claims — I think is a lot safer."
Ms. Introcaso-Davis said the show does have to meet game show standards that allow viewers to play along, but that doesn't mean the answers are not prompting conversation at home.